Portuguese DiVERGE launches first collection of NFTs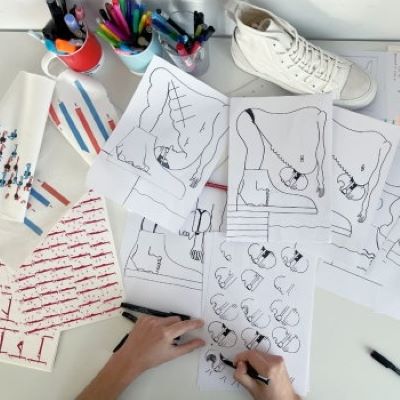 The brand of fully customizable sports shoes has just launched the first collection of NFTs. Whoever buys one, gets to receive a pair of sneakers designed by the artist Frederico Ramires
DiVERGE is a Portuguese sneakers brand that offers several fully customizable models, where each model works as a white canvas to be filled by each customer's imagination. Following this mindset, the new collection of NFTs enables the brand to provide additional canvases for new audiences, while collaborating closely with local artists. DiVERGE allows artists "to integrate their art with sneaker culture, linking the virtual and physical worlds in the process, and consumers the opportunity to own a virtual work and a pair of sneakers with illustrations of that same work", explains the brand in a statement.

The collection, which includes 20 pairs, was created by the Lisbon artist Frederico Ramires, who began his career painting and then transitioned to drawing. The artist believes that the collaboration shows that drawing is not an art separate from life, but a part of it. Whoever buys one of these NFTs, will be entitled to one of the 20 pairs of exclusive sneakers with the artist's work.

"In addition to giving us the the opportunity to collaborate with artists more frequently and in-depth, this technology has brought a wave of collectible digital assets – primarily art-related – that have gained popularity for the same reason that we all collect something: it materializes our passions, it connects us to interests close to our heart and helps us to define ourselves", adds João Esteves. The CEO of DiVERGE believes that this release also opens their platform to future artists and creators, inviting them to collaborate on this project and join the brand in spreading "this creative and empowering network".

Source and Image Credits: apiccaps.pt