Lemon Jelly presents Mini Me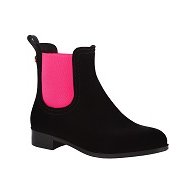 The Portugal-based brand launched a special line with two pairs of rubber boots that make a perfect match for the girls and their fathers and mothers
Known for their colorful wellies for men, women and children, Lemon Jelly has just launched a line for mothers and daughters and fathers and daughters. In this special collection named Mini Me, available for the new winter season, the Portuguese brand has created two types of boots with matching options.
There's the Sardenha boot for the mother and the Candy boot for the daughter, both models in dark blue with a glittering stripe on the side; both looking exactly the same.
For the father the Libra boot is available and the Loly boot is for the child. Both boots are available in brown and different colours are available for the side stripe.
In addition to this collection, Lemon Jelly also launched the Royal Gossip collection for adults, which includes models with a more luxurious look, golden touches or more urban notes such as paint stains.
For more information about Mini Me and Lemon please refer to the
brand's website
.