Nike Vaporfly 4%: boosting running economy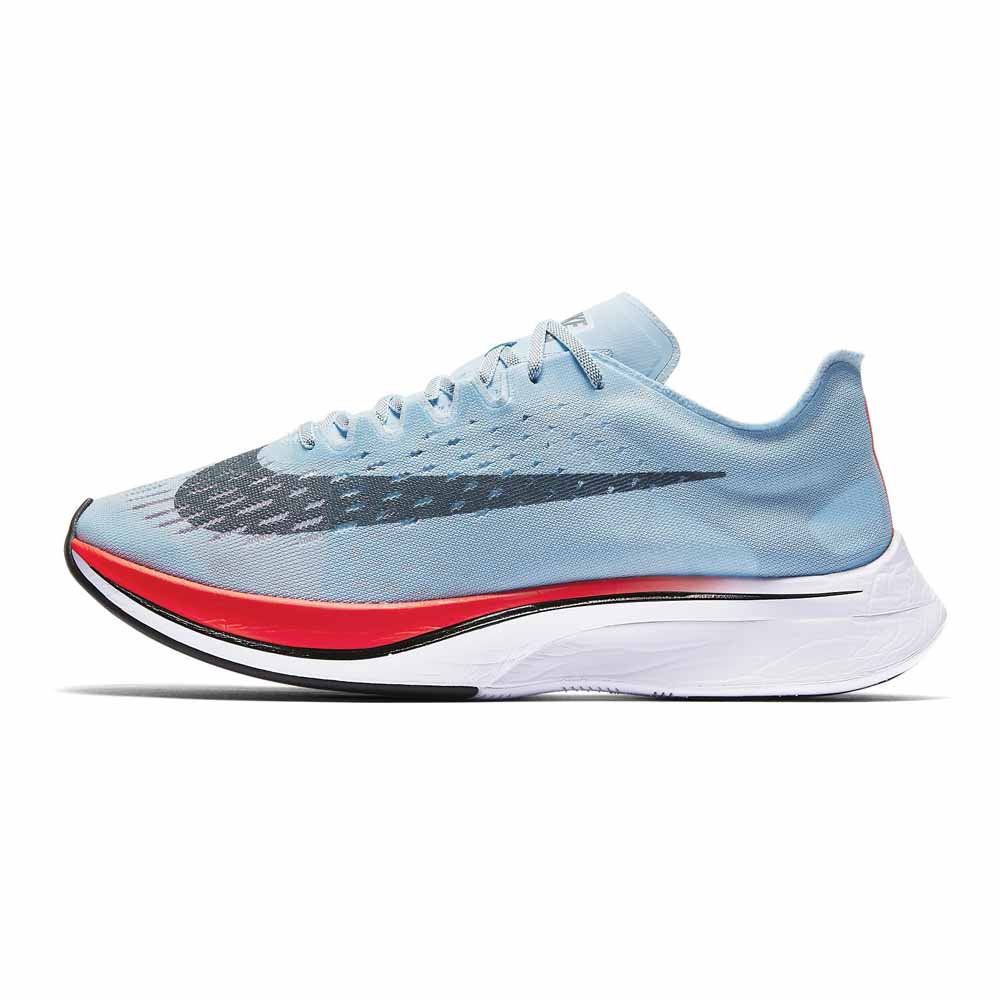 According to studies from both the New York Times and the journal Sports Medicine, Vaporflys do improve running times considerably, but questions are being raised: is this ethically acceptable?
When the Nike Zoom Vaporfly 4% was released last year, Nike claimed the technology embedded in the new trainers could improve the running economy by an average of 4%. On the company's website, it can be read that "the Zoom Vaporfly 4% pairs a Nike ZoomX midsole (for responsive cushioning) with a full-length carbon plate (intended to minimize energy loss during toe bend without increasing demand for the calf). Together, these features can make runners up to four percent more efficient than Nike's previous fastest marathon shoe."
Now, one year later, it is time to ask: did Vaporflys live up to expectation? According to two studies, one from the New York Times and one from the journal Sports Medicine, the trainers indeed delivered what they were promising.

One the one hand, the New York Times analyzed 495 000 marathon and half-marathon times since 2014, using data from the app Strava, that allows runners to register additional information to their running times, such as the model of shoes they were wearing during the race. Runners who wore Vaporflys did, on average, run 3-4% faster than similar runners wearing other shoes and 1% quicker than those using the next speediest shoes.

On the other hand, Sports Medicine published a paper from the University of Colorado, Boulder that gave a similar answer. Eighteen runners, eight rearfoot strikers and 10 midfoot/forefoot strikers, were tested running at three different paces (6:53/mile, 6:02/mile, and 5:21/mile) and wearing three different racing shoe models: Nike Zoom Vaporfly 4%, Nike Zoom Streak 6 and Adidas Adios Boost 2.
The study reported that 18 out of 18 had better running economy in the Vaporflys than when they ran in the two other models, constituting a 100 percent success rate.
"We were surprised by the magnitude of the effect, and that we saw savings in every single subject at all three running speeds," lead author Wouter Hoogkamer said, explaining that "typically, when we test a new shoe, we see that some runners save energy, but for others, the shoe doesn't fit their personal biomechanics, so they have an increased energy cost in the new shoe. I've never seen such a robust finding as we had with the Vaporfly shoes."
The average improvement in running time did cluster around 4%, although this was reduced to 3.4% in a real-word setting. In other words, Vaporflys might reduce the current marathon world record of 2:02:57 to 1:58:54. Now, as much as these shoes sound like any runner's dream, they raise some sports ethics issues. Are these shoes working too well, thus affecting race results? Well, a case like that seems to have already occurred.

In the 2016 US Olympic marathon trials, Kara Goucher finished in fourth – missing out on the plane to Rio by just one place. What is worth noticing is that the winner, Amy Cragg, along with the third-placed runner, Shalane Flanagan, were both wearing early prototypes of the Vaporflys, which according to Roger Pielke Jnr, the director of the sports governance center at the University of Colorado Boulder, could have made all the difference to the result. "It is highly likely that Goucher is the first known athlete to miss the Olympics due to shoe technology," says Pielke. "The mean improvement of Nike Vaporfly for women and fastest runners is around 2%. Put Goucher into Vaporflys in the 2016 US marathon trials, and she gets a spot if they improve her performance by only 0.7%."
Although the International Association of Athletics Federations, the world governing body, insists that Nike's shoe meets all its requirements and "does not require any special inspection or approval", sportspeople and experts around the world are asking for the shoe to be banned in the name of fair competition.