New Generation: meet Rui and Filipe Silva from Treec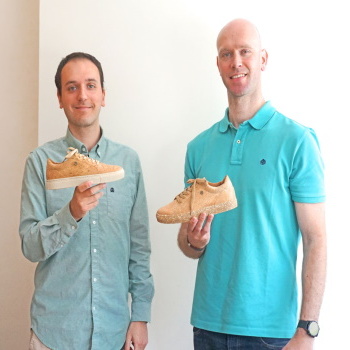 Two brothers from S. João da Madeira and one tradition in the footwear industry. Together they have launched a footwear brand very focused on the environmental concerns. Meet Rui and Filipe Silva, founders of Treec
How did this project emerge?
As we were born in São João da Madeira, we grew up within the footwear industry. Having grown up here, we saw there was a gap in the market that we wanted to fill. We began with three things in mind: design, comfort and sustainability. We aimed to combine Portuguese know-how with innovation and environmentally friendly practices.

Was footwear a natural choice?
It was a natural choice given the context where we grew up. We are from Sao João de Madeira, so we have always lived very close to the art of shoe making.

What are the biggest challenges?
Any new design or brand must have excellent communication skills to be able to get its message out to a large number of potential consumers. As we use materials (as is the case of cork leather) which despite their excellent properties are not very well known by the public. So, this ability to invest in communication has been the biggest challenge.

How does Treec differentiate itself in the market?
Treec links sustainability and innovation in a unique way. One of the main images of the Treec brand is the use of recycled materials in our soles, which gives them an "unusual look". As well as using this recycled material, we are making use of other waste products that in another context can be described as "rubbish" and stopping them from contaminating the environment.

What are your plans for the future of the brand? What can we expect?
To innovate with new materials, to commit to new designs and understand how we can add value to fashion in a sustainable manner based on the circular economy. We are currently available in shops in Germany, Belgium, the United States and Australia, and will soon expand our network of partners. We will continue to invest in our online presence at treec.pt (for the B2B market) and treecshop.com (for the B2C market).

What advice would you give a young person starting out in the industry?
Have courage, work hard and believe in your worth. It is natural to hear people say we are "crazy" and to get so many rejections when we are preparing our project and creating our own business. However, if you have studied the market, and if the ability, ambition and concept are there, then go for it.