New Generation: meet Mónica Amaral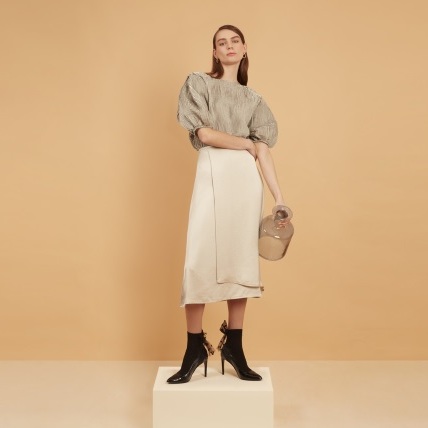 Augustha, a new footwear brand, was born by the hands of Mónica Amaral. Exclusively produced in Portugal, the brand has two goals: maintaining the untouchable quality of the products and preserving the handicraft work
How did this project emerge?
The idea came from a strong passion for footwear since I was young. I have dozens of pairs of shoes and I can't throw any of them out, even if they're very old. I think of shoes as masterpieces, so about two years ago I thought: "why not create my own footwear brand?!". And that's how I came up with the idea.


How did you choose the name Augustha?
Augustha is very recent. Officially, it's on the market since the beginning of September. It was launched through advertisement on one of the most renowned fashion magazine, Vogue Portugal. I have a bachelor's degree in Economy and a master's in Marketing and Strategy, both from University of Minho, in Braga. As I'm from Viana do Castelo, which is relatively far from Braga (to commute), I went to live in Braga during my academic years. The city is so wonderful that I was fascinated by it and I knew that I would never lose the connection to Braga, even when I stopped studying there. I was always passionate about shoes and had the dream of having a business connected to footwear. And then I thought: "why not choose a name linked to Braga?!". As the previous name of the city was Bracara Augusta, Augustha came to my mind. This is actually a delicate name that makes you think of royalty.


How does Augustha distinguishes itself?
The shoes are produced in a small factory in Oliveira de Azeméis. They are all handmade with the best raw materials throughout the whole creation process. The shoes are all made from leather, including the sole. On the sole, there is the Augustha logo, made from gold plated metal.


Are you planning on expanding to other products or are you only going to design footwear?
Right now, the focus is footwear. In the future, there is the desire to extend the brand's collections to purses and accessories, while maintaining glamour, joviality and irreverence of the shoes. That will only happen when the brand is established in the market and has a good recognition level from the target audience.


What are the future plans for the brand?
Right now, Augustha has an online store, at
www.augustha.pt
. In the short to medium term, the goal is to be present on several multi-brand physical stores throughout the world and also in the main online luxury e-commerce, such as Farfetch. In the long term, to be more ambitious, we want to have physical stores of our own worldwide.