Golden Goose joins forces with Swarovski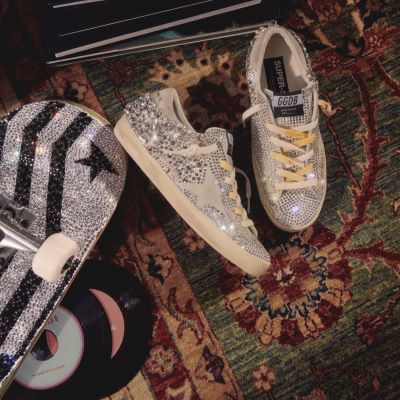 The luxury sneaker brand teamed up with Swarovski Creators Lab on a limited-release collection that includes two new versions of the iconic Golden Goose Super-Star sneaker and an exclusive skateboard
Known for their artfully distressed look, the iconic sneakers come in two colours, pink and white, and are embellished with Swarovski crystals of different sizes and cuts. Additionally, a unique black-and-white skateboard with a crystallized design inspired by the Golden Goose flag was added to the limited collection as a collectable art piece.

This bejewelled collection was inspired by the Los Angles skate scene. "You can see the influences from the typical worn-in look Golden Goose's have, representing the rugged nature of skateboarding, combined with the bling and glamour of the crystals, which may represent not only the glamour of Los Angeles but the superstar influence skate culture has on the world", suggests V Magazine. In fact, the brand's iconic star-a concept, first featured in the Super-Star style, was envisioned during a trip to Venice Beach skate park, so, this capsule ends up honouring "the skate culture which inspired the roots of the shoe", concludes the magazine.

The pink sneakers, limited to 100 pairs, were made available exclusively on swarovski.com and in select Swarovski stores, while the white sneakers, limited to 250 pairs, can be found online and in select stores from both Swarovski and Golden Goose. The skateboards, available in just 10 pieces, will be exclusive to the Austrian brand.

Golden Goose joins this way the roster of partnerships established by the Swarovski Creators Lab. Founded last year, this platform aims at creating cutting-edge designs and collectable items with several international brands. Previous collaborations resulted, among others, in special Amina Muaddi and Aquazzura sandals, Judith Leiber handbags, and Nike Women's Air Force 1 LXX sneakers.

Image Credits: pausemag.co.uk