Ferragamo opens NFT booth in Soho's concept store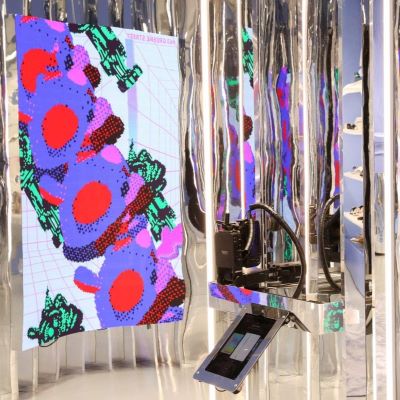 The space, conceived as a new retail experience and creative hub, includes a hologram sneaker customization tool and an immersive NFT boot that allows customers to create their digital artwork
The NFTs are accessed via a mirrored kiosk in which a large-curved screen exhibits the animated artwork of the digital artist Shxpir (pronounced Shakespeare), created in partnership with the multidisciplinary studio De-Yan. Visitors can customize the artwork using elements such as silver chains and abstract shapes and patterns via touch screen as well as be filmed posing with the art, and the result is minted on the spot as an NFT on Ethereum via OpenSea (both the video and the NFT are emailed right away). The store is limiting the first collection to 256 NFTs, but North America's CEO, Daniella Vitale, said to Vogue Business that the concept is to be further explored.

The partnership with Shxpir also includes a small capsule collection of t-shirts and sweatshirts featuring this artwork. The proceeds will be donated to the New York LGBTQ+ organization, The Centre.

In addition, to blend the physical product offerings into the store's tech experience, Ferragamo is enabling customers to purchase their customized gender-neutral 6R3ENE sneakers. As visitors try different colourways, the shoes are rendered in a photo-realistic, three-dimensional hologram six-foot-tall wall. After the order is placed, the sneakers are manufactured accordingly and sent to customers in a couple of months.

Image Credits: forbes.com