adidas: 1 million pairs of sneakers made from ocean trash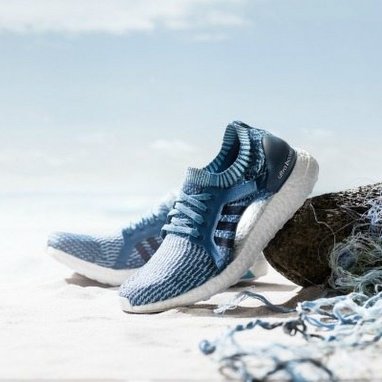 The Germany-based sportswear giant revealed that it has sold more than one million pairs of sneakers made ocean plastic with its partnership with Parley
adidas has revealed it has made and sold more than one million pairs of its shoes made from ocean plastic. These shoes use a yarn developed by Parley that turns the ocean plastic into a polymer that can used to construct knitted footwear.

The shoes made with these materials are nearly indistinguishable from a normal pair of adidas shoes, but the brand wants to maximize the product on the benefits of how they're made could have lasting implications on the future of footwear.

In 2017, adidas released three new versions of its UltraBoost shoe featuring ocean plastic. Each pair reuses an average of 11 plastic bottles in the upper and incorporates recycled plastic into the shoe's laces, heel webbing, heel lining, and sock liner covers.

The partnership with Parley was initiated back in 2016 and according to adidas: "We are committed to phasing out the use of virgin plastic in our products. but this is just one part of our work with parley. As a founding member, adidas supports parley in eco-innovation, research and development, direct impact, education and communication".