New Generation: meet Stéfanie Branco from Asa Leather Work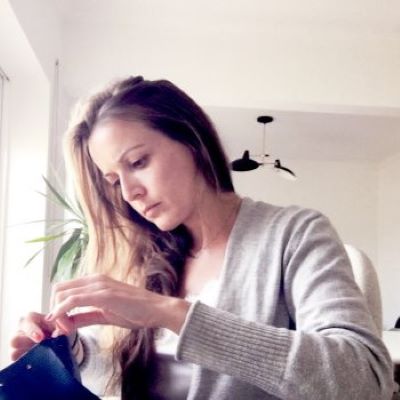 With a background in architecture, she attended the Specialist Technician Course in Footwear Design at CFPIC in 2017 and 2018. She also did several training courses that contributed to the launch of her sustainable leather goods brand Asa Leather Work (ASA)
How did Asa Leather Work come about?
To tell the truth, Asa was born in 2010 more focused on the footwear area. At that time, I was working as an architect in Paris, and as I couldn't find shoes that suited me, I decided to make them myself. I took a training course in manual shoe production, which led to my first pair of handcrafted shoes. It was at that moment that my passion for craftsmanship saw the light of the day. The funniest thing was to find out shortly after that my great-grandfather Luis Esperança had been a shoemaker, as well as a large part of my mom's family.





It was something unknown to me when I started manufacturing shoes, but afterwards, it was an immense joy to hear my family telling stories about my dear great-grandfather and get to know him a little better this way. At that point, I realized that this passion was already running in my veins for generations, and ASA was born quite naturally. ASA (in Malay) means 'hope', and it is a tribute to my great-grandfather Luis Esperança ('esperança' means hope in Portuguese). That name also made perfect sense because I am a great admirer of birds and, at the time, I really wanted wings to fly ('asa' means wing in Portuguese).





I returned to Portugal in 2016 to attend the Footwear Design training course at CFPIC, followed by a professional experience with Inês Caleiro and Maria Inês Rodrigues at GUAVA. It was a fantastic experience both for the learning and the personal side due to the companionship and great friendship among the team.





I enjoyed thoroughly the experience in the footwear sector, but I felt I was still lacking in the artisanal side, the manual manufacturing. In 2018, when I returned to Lisbon, I attended a small workshop on making leather goods for a weekend and then continued practising alone for some time while selling to some friends. It was only a step until the birth of ASA. Now, I found my path.




What features distinguish the brand?
ASA is a premium and sustainable brand of made-to-measure leather goods. All products are hand-sewed, inspired by the Hermès' Couture Sellier technique, with leather sourced from stopped stock in national factories. Simply put, ASA is an experience, in which we offer personalized articles to consumers looking for a product they cannot find on the market, exclusively manufactured for them, in a numbered and limited edition.





Our sustainable approach is to prioritize Slow Fashion. Firstly, all our products are manufactured and personalized by measure, avoiding stock and waste: our customers end up buying something they need; therefore, they buy better and less. We use Portuguese leather that would otherwise be wasted or thrown away despite its excellent quality, thus contributing to the circular economy. Finally, we sew and manufacture everything to ensure greater durability: manual sewing is a much more resistant technique than machine sewing because it requires two needles passing through the hole. It is very difficult to undo this type of sewing.





In addition, we develop entirely new models by customer demand, as well as prototypes for smaller brands. More recently, we launched a series of small workshops to fill the demand for those wishing to learn this handcrafted technique. When I started in the leather goods area, it was nearly impossible to find someone in Portugal that uses the Hermès manual technique. So, today, our greatest wish is to perpetuate this art to prevent it from becoming absolute.




What fascinates you the most about this sector?
That is a tough question! I would say everything. From the smell of leather and glue to the sound of leather work, the manual work and even the rigour of modelling and finishings. In my opinion, leather goods allow much more creative freedom than footwear, and the fact that I can design, model and manufacture everything from A to Z is incredibly rewarding.





Due to my training, everything I draw is inspired by architecture, design, cinema, photography, painting, and sculpture… it is an intrinsic component that is reflected in ASA's design. I love being able to create something irreverent, but still functional and usable. The technical part of the leather goods sector is very similar to an architecture project, so in this sector, I always feel that I am building a mini house for my customers to take their lives inside.





The other side that fascinates me is the opportunity to teach techniques to artisans who are just starting. In this sector, the transfer of knowledge can only be done through practice and orally. Even on a more intense day, I feel I am flying when I give a workshop.




What do you think this new generation entering now into the sector has to offer?
I believe this new generation has a great innovative ability and out-of-the-box ideas, in addition to being more open about this incredible world due to the immersion in digital technologies. We are seeing more and more disruptive ideas emerge, with a focus on sustainability, circular economy and social responsibility.





There is also a growing desire for a return to the roots, to escape cities and social networks, to go back to creating with the hands and simply focus on the essentials. New generations are realizing that with online sales they can work from anywhere in the world with a better quality of life while doing something they truly love.





I was recently selected for the Worth Partnership Project II in partnership with the Trendipeople brand. Trendipeople is a brand that joins and connects in the same website/app artisans from all over the world and customers looking for custom-made and/or artisanal products. In my view, bringing together two seemingly unrelated sides – technology and crafts – can be a way of creating businesses in the future.



What advice would you give to a young person starting in the industry?
I would rather not give advice, but speak for myself and about what I try to do, even if it is not always easy to maintain that mindset every day. To feel, first. Not to create a business just to generate wealth. If that is the sole goal, it will be difficult to endure the hardest moments. What keeps us at it is the passion for doing something. It is complicated without it. On the other hand, to believe, to start, to make mistakes, to do better, to go forward; make mistakes again, improve, go forward again…





It is enough to read any biography or watch any documentary about the most inspiring personalities on the planet to realize that what motivated them were values: improving the world, diminishing poverty, changing mentalities, doing something that has never been made, and creating an innovative product. Behind it, are the emotions felt in the gut, which, in the end, it means fighting and working for something much bigger than ourselves. Without that conviction and resilience, it is not possible to maintain a business.





Occasionally, the Portuguese industrial sectors do not welcome new ideas simply because they have never done it. We often hear "we do not do it" or "it is not possible". When I hear those words, whether in the leather goods sector or in architecture, I am always reminded of what Inês Caleiro from Guava used to say when she started to manufacture her geometric heels in Portugal and could not find a partner: "I would not say I am obsessive, but I am stubborn. If I believe an idea is going to work, even if the manufacturers say, 'it is not possible' or 'it does not work', I try to think always of ways and options to get where I want".







Erasmus+ LEIA project

Stéfanie Branco recently took part of the LEIA project, an European project aiming to present new opportunities for qualification and training by balancing innovation, sustainability, comfort/ergonomics issues, fashion design, quality and craftsmanship responsible for the prestige of "European Leather Goods" and aimed at the luxury sector.

As part of this European project, coordinated by the Portuguese Footwear Technological Centre - CTCP, an online course dedicated to leather goods was created and a 10-day practical course was promoted at ARSUTORIA (Milan, Italy), which took place between the 11th and 22nd of July 2002. Eleven participants from Portugal, Italy, Spain and Romania took part, Stéfanie included.

For more information about the project please follow the

link

.







For information about Asa Leather Work please refer to the company's

website

.




Source and Image Credits: apiccaps.pt