New Generation: meet Carolina Santos from Alameda Turquesa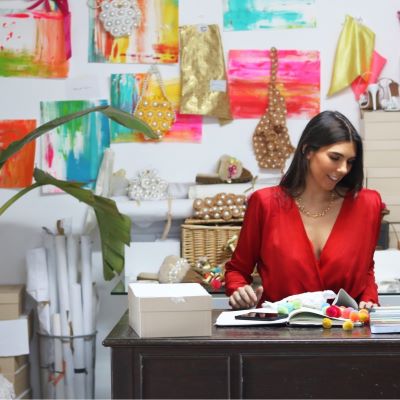 Alameda Turquesa was created in 2012 by Carolina. What started as a social network 'stunt' quickly gained scale. Alameda's products wined over many international public figures and can be found at Saks and Neiman Marcus, in the US, and at Selfridges, Harrods and Brown Thomas, in the UK
You have a background in Architecture. How did you get from there to a footwear brand?
I don't know, either. I have always wanted to be an architect, always studied to become one. I did the regular training and even worked for two years and a half at an atelier in Porto – immediately after finishing my master's – and was admitted to the order. I quit shortly after because I had to make a decision. It was not easy, but ended up being very organic. Everything began with my blog Thefrenchfries, which already had an international projection at that point. Ten years ago, the word influencer did not even exist. From the blog to the brand, it was all very quick. I believe that the two grew together.





Architecture did not leave me; it still exists in how I think and see the world. That is the advantage of architecture, it is present in everything in our lives, and I believe it has been an asset to the brand.




Alameda Turquesa was born digitally. What are the biggest challenges of the online?
Online is no longer a new world, but it is different and very challenging. The possibilities are endless, and the challenges are proportionate. Alameda Turquesa was born on the digital, and it is where we want to maintain it.




What features distinguish the brand?
Alameda Turquesa has striking pieces, which are automatically recognized as ours. People already distinguish well our pieces, even though we do not use logos. I would say that the product is everything; it is the most important, and no matter how many copies might appear, the essence of a brand cannot be replicated or copied. This is why we have grown consistently over the past years.




You recently arrived at Harrods and have won over many public figures across borders. International feedback has been relevant to the brand's growth?
Yes, being the only Portuguese shoe brand selling at Harrods is a reason and a responsibility that makes us very proud. We already are in the most luxurious department stores in the world, side by side with the best international brands. And the feedback we have been receiving from the public is very positive. For us, all growth is important, and what moves us is the happiness our customers feel while wearing our pieces, whether national or international, anonymous people or celebrities. We are genuinely happy that they chose to use our pieces, and it is this genuine happiness of our customers that has made us grow.




What fascinates you most about the footwear sector?
Fashion in general allows us to express our personality, and that is what fascinates me the most, the power fashion has as an extension of our personality.




What do you think this new generation entering now into the sector has to offer?
New generations are always crucial to help the country go forward, but we cannot forget the experience and wisdom of other generations. Alameda Turquesa is what it is because of my parents. I believe that if new generations can realize that all generations are an asset, it is already halfway to success.



What advice would you give to a young person starting in the industry?
I think the most important thing when creating a brand is to think about the difference we want to offer. I cannot forget that when we created Alameda, Portuguese brands were ashamed to say they were produced in Portugal and had to choose English names. We never hid, from day one, that we were Portuguese, on the contrary, we always emphasized it. The advice I would give, despite believing I am no one to do it, is to never try to be something you are not. It is noticeable when something is not genuine, and it is that genuineness and originality that have made us grow and move forward.