Kirstin Deutelmoser, Director of GDS, live on World Footwear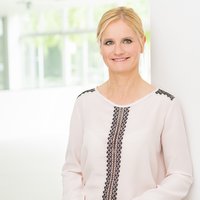 The summer edition of the GDS trade fair will take place in Düsseldorf from the 29th to the 31st of July. We spoke with Director Kirstin Deutelmoser to reflect on the future of the trade fairs and the footwear industry

What do you expect from this summer edition of the GDS 2015? Do you want to share with us some of the new features of the event?
First of all the biggest news in July is that the POP UP Area is moving to hall 10 thereby moving closer to the trade show action again. The catwalk is also moving from hall 9 to hall 10. On the Catwalk exciting fashion shows for instance our GDS STUDIO Show or fashion shows of exhibitors are going to take place. The scene area RICHTIG WICHTIG will also move to Hall 10 to celebrate its second edition. After paying tribute to Paris this area will be "very British" this time. London calling is the motto for the new season. There is going to be again an overriding trend theme at the forthcoming GDS which is GDS x Zeitgeist Digital Craft. With this strapline GDS focalises a theme currently deemed important in society while building a bridge to new business models for retail. This time the 3D technology theme runs across the complete Highlight Route of GDS shedding some light on the various applications in the footwear sector as well as in other sectors. I am very curious to see the new S/S16 collection of the Design Trendsetter at GDS as well as the designs of our polish brands exhibiting in HIGHSTREET within the HUSH Warsaw International Cooperation. Concerning some news for tag it! I can announce our cooperation with Chinatex. Held alongside tag it! in the same hall, we will see for the first time a trade show on the topic of fashion sourcing. The Düsseldorf Fashion Sourcing (DFS) will feature some 110 selected producers and suppliers of clothing and textiles. And last but not least I am looking forward to the second edition of the shoe and accessories festival OUT OF THE BOX. From the afternoon visitors can look forward to exciting events in public spaces around Düsseldorf City centre.

We're witnessing the appearance of several new trade fairs in Europe, mainly smaller and regional fairs. How do you see this new trends and how is this impacting the attendance of visitors and exhibitors at GDS? Is this impacting the GDS performance? In what way?
The international trade show landscape in fashion and footwear is changing dramatically. On the one hand there are some new fairs in this landscape with no clear positioning and concept. Sometimes I recognise a lack of good organized fairs. On the other hand there are some niche fairs with a very reasonable concept for a special audience which is able to find what it is looking for. For me as a fair organiser it is key that fairs provide information as a communication platform for exhibitors and visitors. Speaking of GDS I reckon that we are such a platform. For our brands we are the best platform for presenting themselves and show what they are in a competitive environment for our visitors our mission is to provide a comprehensive as well as global overview about most important international collections in the three Lifestyle words HIGHSTREET, POP UP and STUDIO. I think that fairs need to be always up to date concerning latest trends in the sector and fairs should be aware that stationery retail must adopt to the zeitgeist and provide a very good assortment, very good quality of sales talks and inspiration in terms of the product. Exhibitors as well as visitors know what they get in terms of organisation and service coming to GDS and this is most important.

In your view, what will be the main future challenges for footwear trade fairs?
Today there is a shift going on. As mentioned before there are plenty of fairs in this environment. To prevail in this segment the challenge of fairs is to correspond to the needs of exhibitors and visitors. Meaning, giving the best information pool and insights of the tendencies of the sector at the beginning of the season. Generally retail became more demanding and the order behavior changed. What is also obvious, that more retailers go and see the collection in show rooms instead of at fairs. But if fairs work on attractive programs during fairs, providing new brands, new messages and changes it might get easier to attract buyers. The motto is to never stand still, always being on the pulse of time, always providing new impulses in terms of suppliers and assortment.

What do you think will be the main challenges for the footwear sector during the next few years?
There are profound structural changes going on within the sector triggered by globalization, verticalization and especially digitalization. What I think is, that the shifts the sector went through have been recognized much too lately. Retail is struggling with radical changes in the competitive environment. There is too much stock and products on the market. Sale periods are all-seasonal, the assortments in stores are barely distinguishable, cities all look the same. In terms of retail I emphasize particularly: be able to distinguish yourself, show your DNA, stay tuned and be open for new suppliers! In these times a high profile is inevitable to survive in this environment. This environment is changing also rapidly. One of the most threatening factors for stationary retail is the rapid spread in digitalization. The e-commerce boom is incomparable. Online shops are gaining market shares like no one else. Soon a third of the global turnover in footwear could be sold via internet. For instance it was assumed that shopping experience in retail was way more emotional and haptic but also here online shops are catching up. Curated shopping offers and online consultation make them competitive in this field. Now GDS is even more important than ever. I hope retailers are going to get some inspirations and impulses at GDS which will help them to prepare for the future's challenges.