Register to continue reading for free
Vietnam's rise in footwear trade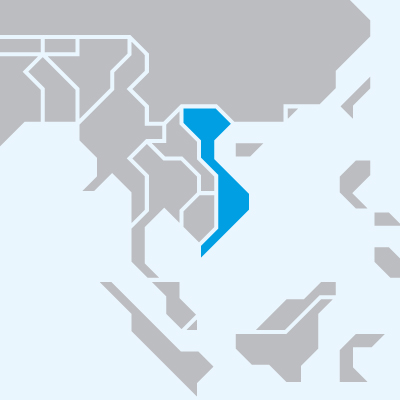 The World Footwear's Panel of Experts is forecasting Vietnam's share of footwear exports to reach 11.5% in 2025. Last year Vietnam exported roughly 1.4 billion pairs of shoes
According to the World Footwear Yearbook, in 2019 Vietnam was responsible for 9.5% of the footwear exports worldwide, up from 4.8% in 2010. In light of this evolution, in the current edition of the Business Conditions Survey we asked our panel's members about how much did they expect Vietnam's share of world exports to be in 2025.

Clearly, the majority of our experts expects this country's share to continue growing: more than 60% forecast it will account for more than 10.5% of footwear exports in 2025, and 9% answered "more than 15%".

These prospects do not present significant differences among lines of business or geographic location.

The most common answer being an expected market share ranging from "10.5% to 12.5%" in North America (70%), Europe (28%) and Asia (26%). On average, our experts forecast Vietnam's share of footwear exports to reach 11.5% in 2025, which corresponds to an estimate 2 393 million pairs.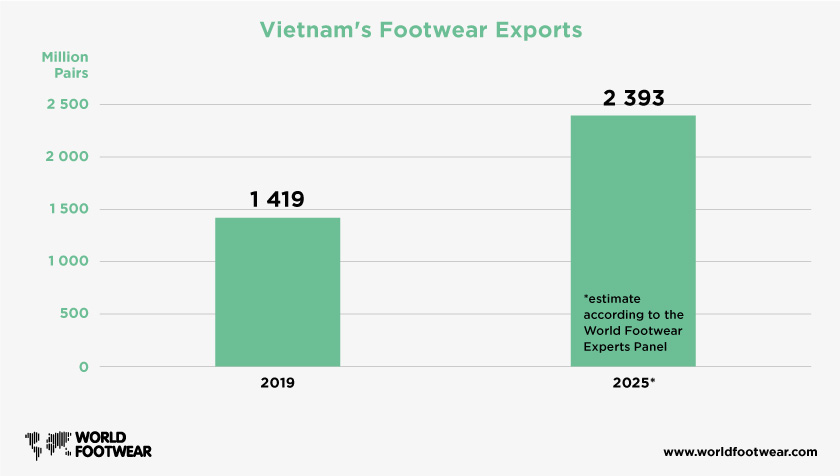 About the Business Conditions Survey
In 2019 the World Footwear has created the World Footwear' experts panel and is now conducting a Business Conditions Survey every semester. The objective of the World Footwear Experts Panel Survey is to collect information regarding the current business conditions within the worldwide footwear markets and then to redistribute such information in a way it will provide an accurate overview of the situation of the global footwear industry.

The third edition of this online survey was conducted during the month of October 2020. We have obtained 122 valid answers, 56% coming from Europe, 25% from Asia, 9% and 8% from South and North America, respectively, and the remainder from other continents. Almost one third (31%) of the respondents are involved in footwear manufacturing (manufacturers), 21% in footwear trade and distribution (traders) and 48% in other footwear-related activities such as trade associations, consultancy, journalism, etc. (others).