Register to continue reading for free
COVID-19 to lead to a 22.2% decline in footwear consumption in 2020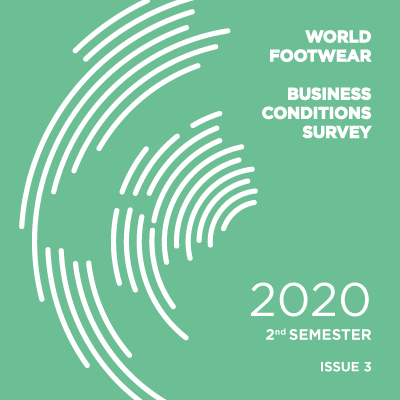 The World Footwear' experts panel, gathering specialists from all over the world, is foreseeing a drop in global footwear consumption of 22.2% in the current year, a figure in line with the previous edition forecast (22.5%)
Since the previous edition of the World Footwear Business Conditions Survey, held last March, some signs of a slow recovery began to show, but the evolution of the global macroeconomic scenario is still highly uncertain in the presence of the evolving COVID-19 pandemic. This sentiment, as expected, reflects in our survey. Most of our panel members believe that over the next six months the quantity of footwear sold will fall, but also that prices will stabilize, which is an optimistic evolution in comparison to the perspectives from six months ago.
Impact on Consumption
As in the previous edition, we questioned the members of our expert panel about the likely impact of the pandemic on footwear consumption in 2020, as compared to what it would have been in the absence of the pandemic, both in their home market and worldwide.

The scenario continues to be rather gloomy, but slight improvements in comparison to the March's edition can be noted: a larger portion of respondents expects a major negative impact on footwear consumption worldwide (between 20% and 30% decrease), but fewer expect a severe impact (> 35% decrease) than in the previous edition (38% against 25% and 18% against 26%, respectively).

Geographically, China can be distinguished as the most upbeat country regarding the expectations over the impact of the pandemic in its own market.

On average, the World Footwear's Panel of Experts is forecasting that footwear consumption worldwide will fall by some 22.2% in 2020 (a similar forecast to that in the previous edition: 22.5%). Estimates improved in Asia (to -18.2%) and Europe (-24.2%) but worsened in North America (-24.2%) when compared to the previous edition.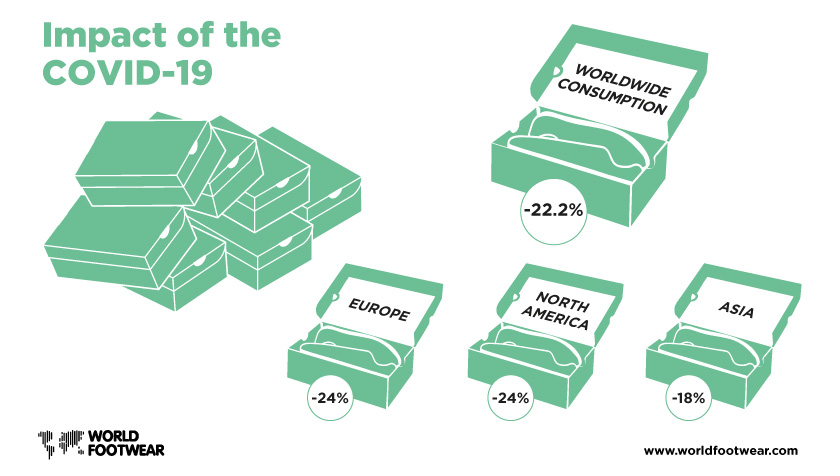 Applying these percentages to the consumption by continent reported in the World Footwear Yearbook 2020, should these forecasts prove accurate, footwear consumption this year will fall by 795 million pairs in North America and in Europe and 2.2 billion in Asia.



About the Business Conditions Survey
In 2019 the World Footwear has created the World Footwear' experts panel and is now conducting a Business Conditions Survey every semester. The objective of the World Footwear Experts Panel Survey is to collect information regarding the current business conditions within the worldwide footwear markets and then to redistribute such information in a way it will provide an accurate overview of the situation of the global footwear industry.

The third edition of this online survey was conducted during the month of October 2020. We have obtained 122 valid answers, 56% coming from Europe, 25% from Asia, 9% and 8% from South and North America, respectively, and the remainder from other continents. Almost one third (31%) of the respondents are involved in footwear manufacturing (manufacturers), 21% in footwear trade and distribution (traders) and 48% in other footwear-related activities such as trade associations, consultancy, journalism, etc. (others).