UK: Mother's Day boosted March retail sales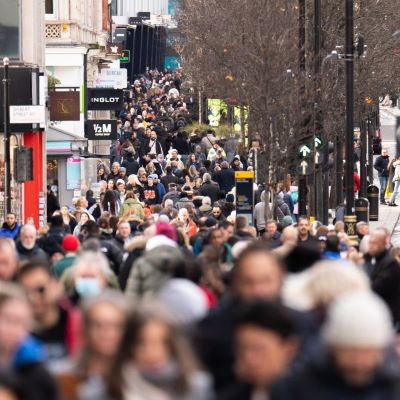 Despite cost-of-living pressures and an wet weather that kept shoppers at home, Mother's Day purchases boosted spending in March. Still, overall growth fell short of inflation
According to the BRC (British Retail Consortium)-KPMG Retail Sales Monitor, UK total retail sales increased by 5.1% from the 26th of February through the 1st of April, as compared to the 3.1% rise recorded in the same period last year. The figure was above the 3-month average growth of 4.8% and the 12-month average growth of 2.6%. However, due to the double-digit rate of inflation, this growth represents a significant drop in sales volumes. "Many retailers hoping for a Mother's Day boost will have been disappointed with overall sales growth of just 5% in March, against a backdrop of rising inflation running at more than 10%", commented KPMG's head of retail Paul Martin.

The data also shows that UK like-for-like retail sales, which strips out changes in the retail space, grew by 4.9% in March – the same as February – against a decline of 0.4% in March 2022. This was above the 3-month average growth of 4.6% and the 12-month average growth of 2.1%. Furthermore, it should be noted that while food sales rose by 8.5% on both a total and like-for-like basis over the three months to March, non-food sales increased by 1.8% on a total basis and 1.4% on a like-for-like basis in the same period.

"While the wettest March in over forty years dampened sales growth for fashion, gardening and DIY products, Mother's Day [the 19th of March] brightened up sales for the month. Stores were given an extra boost, as last-minute shoppers dashed to their local high streets and shopping centres to purchase jewellery, fragrances and flowers", pointed out Helen Dickinson, Chief Executive of the British Retail Consortium. But data footfall from the British Retail Consortium (BRC) Sensormatic IQ insights doesn't hide the fact despite the 6.8% year-over-year increase, footfall decreased by 3.6% as compared to February and was worse than the three-month average increase of 9.5%.

Looking ahead, Dickinson believes, however, that "with consumer confidence edging up and big events on the horizon such as the King's Coronation, retailers have reason for a spring in their step". Nevertheless, "extensive cost pressures on business remain, and the Government must ensure it minimises incoming regulatory burdens. Unless these future costs are brought to a heel, we will likely see high inflation continue for UK consumers, who already face rising household bills from this month", she concluded.

Image Credits: news.sky.com