theMicam with positive balance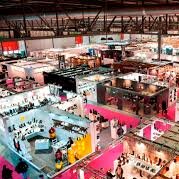 The Milan-held trade fair has received 32 703 visitors (+1.8%). International buyers deserved highlight, as signs of recovery are seen, according to the Italian Footwear Association

1 456 exhibitors, including 821 Italian companies and 635 foreign companies, covered a 64 144 square metres of net display space.
According to Assocalzaturifici, the Italian Footwear Association, attendance was up at theMicam, as it closed its 81st edition at Fiera Milano (Rho) with 32 703 visitors, half of whom came from outside the country. Visitor numbers were up by 1.8% over February 2015 edition and by 6% over the September edition.

theMicam attracted 16 343 international visitors from more than 130 different countries. Spain, Germany and France led the ranking. Surprisingly, the number of Russian buyers also grew significantly (+13%).

"We're very happy with the results", stated Assocalzaturifici chair Annarita Pilotti, adding; "theMICAM has confirmed its status as the world's most important event for the footwear industry, a unique international business opportunity. We started out in a climate of uncertainty, with a number of difficult years behind us before the year 2015, in which, even though sales largely held their ground, the industry has suffered the effects of a drop in domestic demand and shrinkage of a number of important foreign markets, such as Russia and the former CIS area. The results were good, however, and we saw a return of Italian buyers, whose numbers had dropped significantly. The participating companies' satisfaction is tangible, and they will be able to go back to work tomorrow in a more serene state of mind. We like to think that the vitality so evident at the fair is the first sign of a recovery in 2016. Italian footwear companies employ 77 thousand people, but are still on the defensive, and deserve more attention from the country's official institutions."

Annarita Pilotti also claimed tax exemptions for investment in production of samples, and stressed the importance of the EU not granting China the Status Of Market Economy unless the Asian giant "starts producing the shoes it sells in Europe compliance with the same quality, environment and safety standards as are applied in Italy".

The 82nd edition of theMICAM is scheduled September and will be held between the 3rd and 6th at Fiera Milano (Rho).