The balance of the 80th edition of theMICAM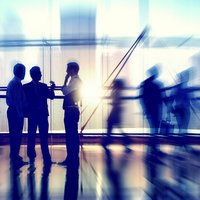 The latest edition of theMICAM closed on the 4th of September, registering 30 801 visitors, including 16 480 coming from abroad


According to numbers released by the organization 1 443 exhibitors (including 602 international visitors) occupied the 64 175 square metres of net display space in the halls of Fiera Milano Rho with their Spring-Summer 2016 collections.

The same source indicated that the number of visitors from the Far East, Middle East, United States and Europe remained steady, apart from France, while there was a considerable drop in numbers of buyers from Russia, expected in view of the collapse of the rouble and the sanctions in effect, from Japan and above all from Italy, due to the crisis of the domestic market.

"Though the event definitely felt the effects of the international crisis, it continues to be a global landmark", commented theMICAM Chair Annarita Pilotti, adding: "This success is attributable to the entrepreneurs who heroically continue to invest in creativity and innovation at this difficult time. In this sense I would like to repeat the appeal I made at the opening of the event, in the presence of Confindustria chair Giorgio Squinzi and European parliamentarian Simona Bonafè, for institutions to dedicate more attention to industry in our country in relation to important issues such as sanctions in Russia, tax breaks for investment, recognition of 'Made in' labelling and easier access to European funding. Our enterprises must be able to compete with their European competitors on even ground".

The organization of the Milan-based footwear trade fair has also highlighted the synergy obtained with the simultaneous occurrence of theMICAM and MIPEL, resulting on "an important partnership between the two industries".

The 2016 dates were already announced, with the trade fair taking place from the 14th of February through the 17th (Sunday to Wednesday) and from the 3rd to the 6th of September (Saturday to Tuesday). "We hope that the return to September dates and the presence of a Sunday will boost the number of Italian buyers, which was lower this year".