Skechers and Kansaïyamamoto team up on limited-edition collection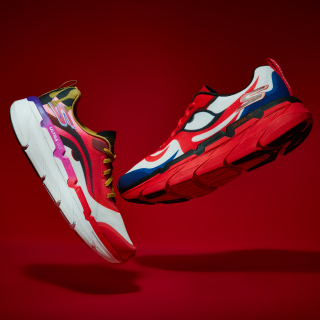 The two brands collaborated on a limited-edition collection of footwear inspired by the late Japanese designer Kansai Yamamoto. It was launched on the first anniversary of his passing, on the 21st of July
The limited-edition Skechers x kansaïyamamoto of four fashion sneakers for men and women combines Kansai aesthetics with the comfort of Skechers. According to Michael Greenberg, President of Skechers: "Skechers footwear has appeared in major runway shoes around the globe over the last few years with buzzworthy styles that get the world talking. Kansai's creative vision follows that progression with the iconic design fused with our Skechers Max Cushioning Premier and D'Lites styles that offer incredible comfort".

This collection spans a range of Max Cushioning Premier fashion sneakers that feature iconic kansaïyamamoto designs inspired by traditional Japanese motives, such as kabuki theatre, beauty and the notion of sun and moon. On the 21st of August, the Classic Skechers D'Lites will follow, with a multi-coloured premium leather upper in celebratory festival hues, plus the kansaïyamamoto logo.

The collection is available online at the Skechers website and in flagship stores in the United States, Canada, Belgium, France, Italy, Germany, Spain and the UK. An expanded range of styles will be available exclusively in Japan.