Register to continue reading for free
Retail take-off in Spain is not clear, despite improvement in confidence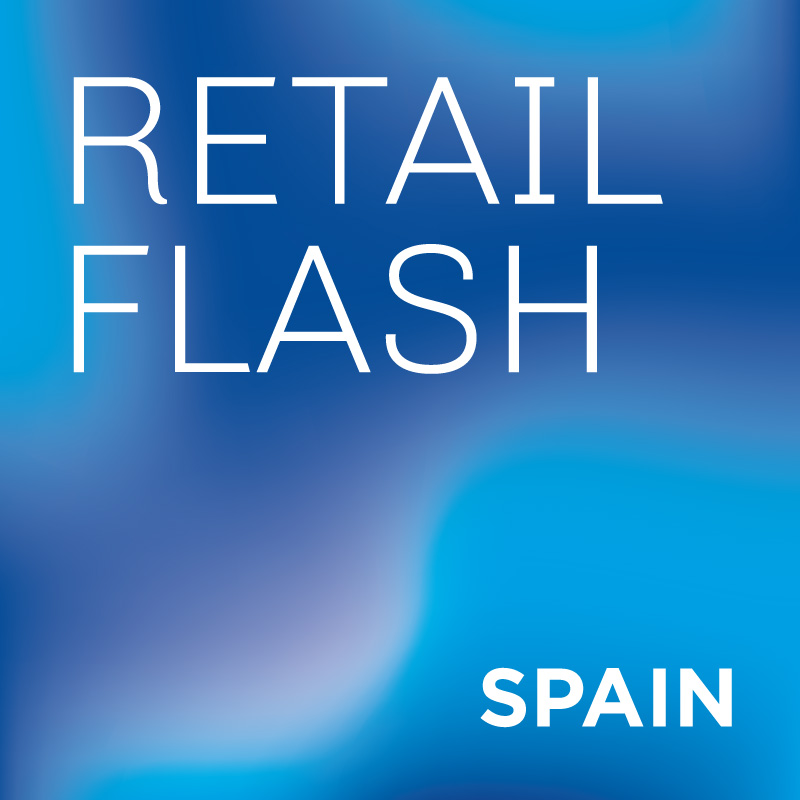 Retail Sales Index in specialized stores in Spain are still some 20 percentage points below the pre-pandemic levels, registered in 2019. Confidence seems to be improving for consumers and retailers, but importers are more cautious. Online continues with a good performance, however, the online share is not enough to push retail up. Developments in the coming months will reveal the way for retail in Spain


The Mystery of the Lost Shoes
Looking into the Textile, Clothing & Footwear (TCF) Retail Sales Index in specialized stores in Spain, it is easy to conclude that this category is still struggling through August to overcome the 20 percentage points that are missing in order to return to the pre-pandemic levels of 2019.

Despite the fact that access restrictions to physical stores are now over, the retail take-off in Spain is not clear, and it seems as if confidence is far from being back.

Back in June, in an interview given to Shoeintelligence.com, Juan Manuel Perán, CEO of the Spanish footwear company Pikolinos (selling domestically 30% of its production and owning 37 stores in Spain) announced they closed fiscal year 2021 (in the end of April) with a decline of about 30% in revenue compared to previous years, "a drop which was not uncommon among footwear manufacturers". They believe it will take several years to return to pre-pandemic levels. As a result, "for the next years, we expect to position ourselves at sales 10-15% below the pre-COVID period", he stated.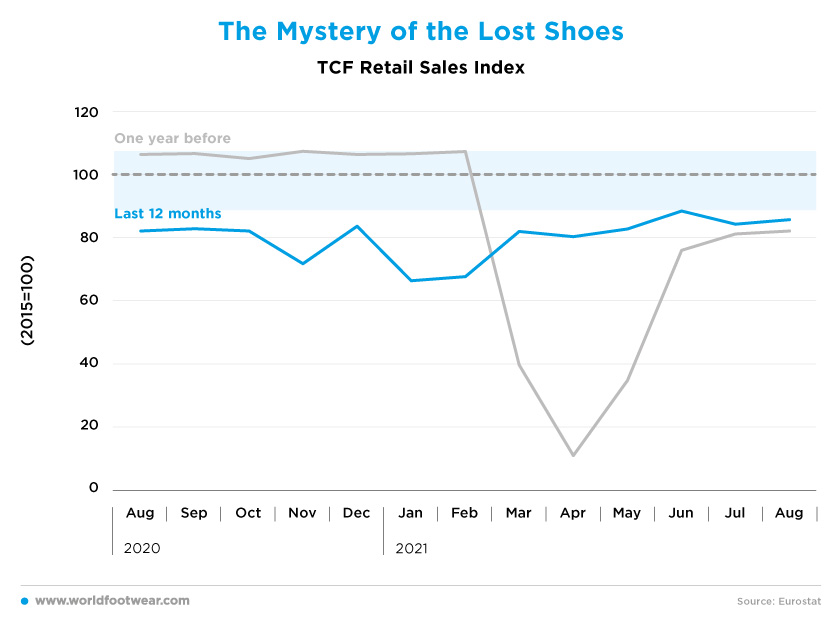 The Return of Consumers' Confidence
If one looks into consumer's data, it seems the talk is different: it is now 20 to 15 points better than it was in the same period one year ago and compares well to the 2019 mood. Also, in contrast to footwear retail, not only pessimism is gone for retailers in general, but their optimism is back, since May, at heights that have not been seen since 2019.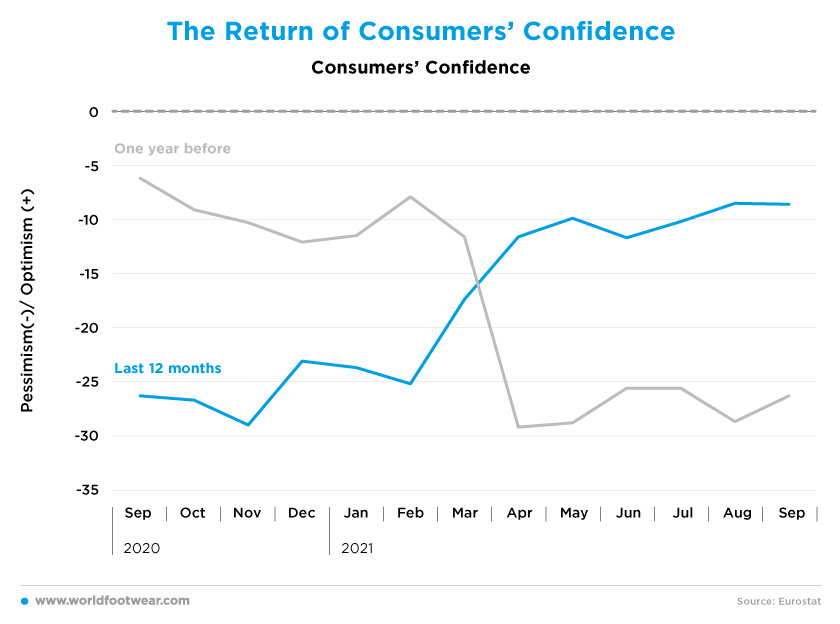 Retail Confidence is not One Size Fits All
Whereas overall confidence was much better in the last quarter footwear retail is not so bright.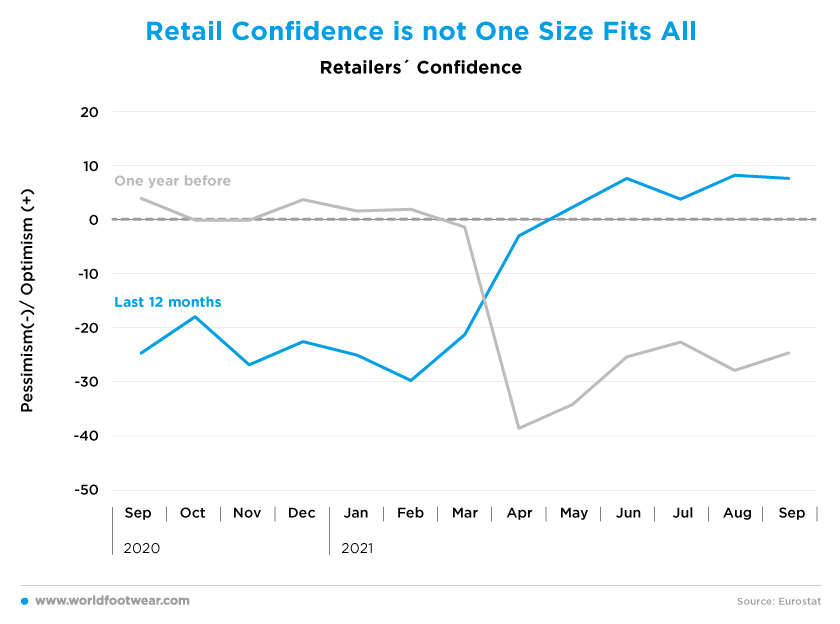 According to Invertia/El Español (October 2021), Crocea Mors investors acquired in November 2019, in the course of an insolvency proceeding, and free from liabilities other than related to adjusted labour, the brand and 125 out of 190 stores of Maripaz, once one of the biggest footwear chains in Spain. In March 2020 the company negotiated with the unions the dismissal of 130 more workers and closed 33 stores as necessary to face the pandemic. Yet, in September 2021, Crocea recognized that sales are no better and asked for a new adjustment of more than 20% of its remaining workforce, closing 19 more stores and reducing the personnel in 25 others.

Should current business expectations point in the short term to a footwear market on par to that of 2019, this second adjustment would be postponed for sure.


Footwear Importers are still Cautious
Footwear importers are, also, apparently much more cautious than retailers in general.
While reported imports are (one month) delayed against footwear retail data, the last available data (closing in July 221), albeit on the upside of the reference line, was more than 7 pp lower Y-o-Y (year on year) and about 33 percentage points (pp) distant from 2019. Importers' expectations about the footwear market in the months ahead were more in line with a faltering footwear retail than with a dazzling one.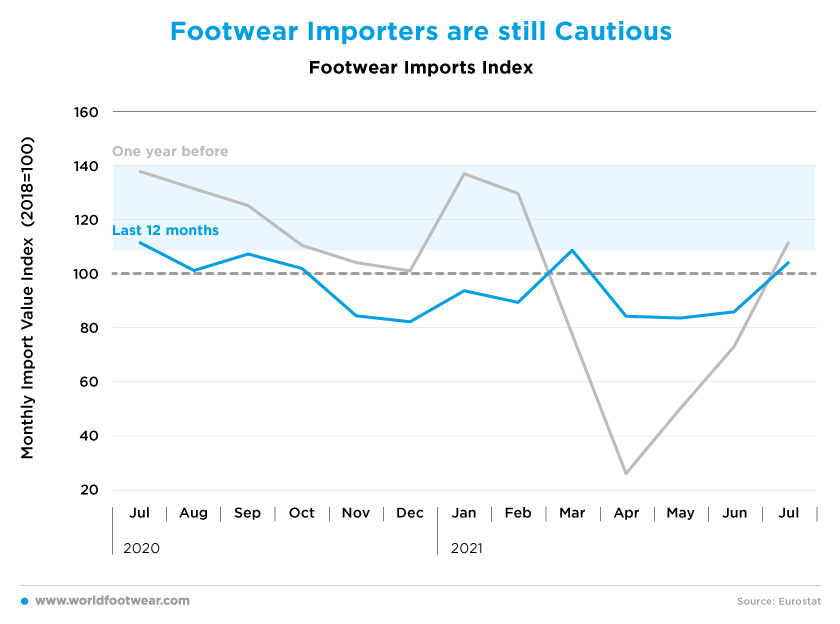 So, retailers' confidence data is hiding many confidence shades across the categories, and in this case footwear retail seems to be an outlier


Online Share is not Enough to Push Retail Up
Internet retail data, as confidence, are also not specific of the TCF categories. However, apparel and footwear are dominant categories in the online sphere and the risk of divergent moves is lower.
Recent e-commerce data are varying in a range of 25 pp, as in 2019, before COVID-19, but the leap during the period is over 135 pp up and gives no sign to revert in Spain despite the free opening of the physical stores.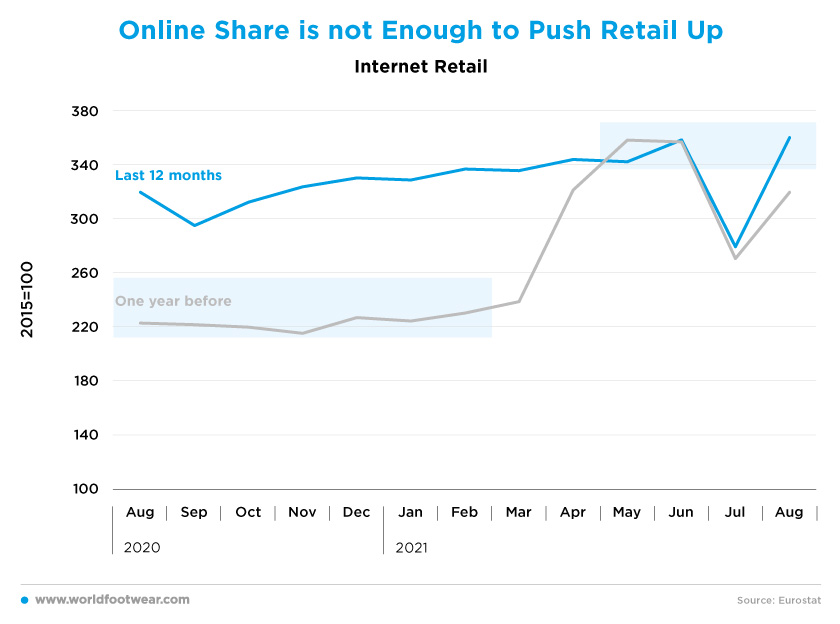 The gap seems to stick so far, safe at the sales season of July, when prices were at sizeable discounts and bricks-and-mortar have been desperate for fashion stock-off.
Many retailers operating in the footwear market continue to praise their online performance after pandemic limitations began to be downgraded. Shoeintelligence.com reported that El Corte Inglés announced online sales growing in the first three months of the new financial year by 119%, representing 12.8% of sales compared with 5.3% a year earlier. And Inditex, a much more internationalized group, noted that online sales rose by 36% from the first half of 2020 and by 137% from the first half of 2019, expecting online sales to account for more than 25 percent of total sales for the whole fiscal year. If we take the Spanish market alone and the footwear retail as a whole, the share of the online in total retail must be still very limited. So good performances, even if sustainable, are not enough to significantly push up the overall footwear retail.