Portuguese Brands: Carlos Santos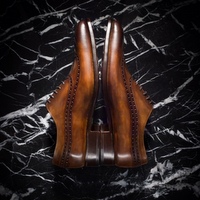 Get to know another Portuguese Brand. Today discover more about Carlos Santos
Carlos Santos is one of the most important and prestigious brand of men's footwear in Europe, with several decades of experience in the manufacture of excellence in men's footwear.
After having consolidated its position in the main European markets, the investment in new markets is now taking further importance.
From a strategic point of view, the USA are particularly relevant. The brand recently participated in the MRket 2013, which took place in New York. "This participation was important for those of us, who are still taking first steps in the North-American market", commented Carlos Santos, the owner of the namesake brand.
Get to know Carlos Santos better by following this
LINK
.