Nike offers shoes customised in 90 minutes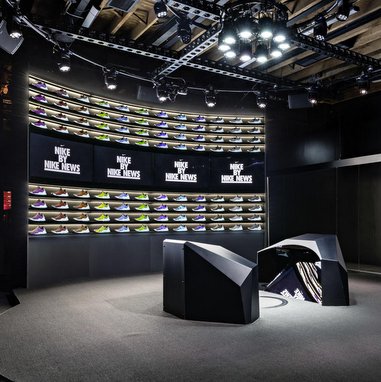 For decades, Nike has worked directly with athletes to create cutting-edge and highly personalized products. Now the brand wants to start to expand this concept
After working directly with athletes to create highly personalized shoes for its athlets Nike's Advanced Innovation team wants to bring elements of this process to the consumer by merging digital design with traditional footwear making. The experience begins with a series of graphic options, generated from either Nike heritage or on-the-spot phrases, which can then be customized into patterns through shifts to size and color.
"The intention of the project is to bring to life the collaborative design experience that we offer our athletes", stated Mark Smith, VP of Innovation Special Projects, adding: "They love products that tell their story, so we wanted to combine that idea with a new process of live design and manufacturing that allows our guests to come into the space, work collaboratively with us and leave with a special product in less time than ever before."
What are made are one-of-a-kind versions of the Nike Presto X, a silhouette specially created by the Nike Advanced Innovation for the Nike Makers' Experience. There are two versions of the shoe, a traditional Presto and a slip-on. Both are equally suited to the process of customization via dynamic object tracking and projection systems that instantly bring designs to life.
For example, one could start by using a birthday or anniversary. From that typographical input, patterns are then created and scaled to taste. Color choice and graduation are nearly infinite, too. And that's just the tip of the customization iceberg.
"The Nike Makers' Experience is a fast, fun, interactive, one-of-a-kind design experience. It takes most people longer to come up with their idea than it does for us to make it," adds Smith. "In our minds, this is tomorrow, today."
The invite-only experience will initially be limited to Nike friends and family and select Nike+ members.