New Generation: meet João Azevedo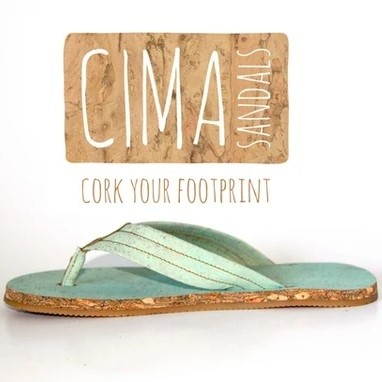 João Azevedo grew up in Sintra, near the sea. After studying and working in the United States, he returned to Portugal with the idea of creating an environmentally friendly slippers brand. In 2015, Cima Sandals was born
How was the project born?
Cima Sandals was born with the aim of changing from the traditional beach slippers made of plastic, rubber and/or leather and finding a more ecological solution for it. As I grew up in beach areas I constantly saw flip flops and other types of plastic products washed up on the coast, and I started thinking about solutions that would help solve the problem. I started with slippers, as it is a product that we use on a daily basis. Realizing that Portugal has one of the best footwear industries in the world and having decided to focus on cork, a national raw material, in 2015 the brand Cima Sandals was born.


Was the footwear sector a natural choice?
I can say yes. I always wore flip-flops, since I grew up in a beach area in Sintra, near Lisbon. Plus, it was a product I often interacted with. I thought I could do better, not so much in design, as I always liked classic beach flip-flops, but to improve the entire manufacturing process and especially the materials used.


What were the biggest challenges you have faced?
One of the biggest challenges was finding the right people to collaborate on this idea. I didn't know anything about footwear and had never been in contact with the industry that Portugal had. It was a long process to get to where we are today. We spoke with many factories of all kinds of footwear and cork producers until we found the people who believed in the project and until today we work together after many prototypes and many mistakes.


How is the brand standing out in the market?
All of Cima Sandals' raw materials come from Portugal and all production is made in Portugal, something that is rare nowadays; as many companies place profits above what we believe to be a brand's core values. We didn't want to design a product here, send material halfway around the world to be manufactured, and then come back halfway around the world to be sold/shipped again. We are a company with a very small carbon footprint in production and perhaps one of the greenest slippers in the world.


What are the plans for the future of the brand?
The plan will be to put a pair of Cima Sandals on the feet of every person wearing plastic slippers and change the way people look at fashion items. Durability has always been one of the biggest goals in our slippers. We will strive to improve our product and achieve our goals of eliminating unnecessary pollution.


What advice would you give to a young person starting in the industry?
Focus on only one problem at a time and never give up. Think of innovative solutions to achieve your goals. Companies and products are not created overnight, but after many mistakes! Only with patience and persistence can success be achieved.