New Generation: meet Isabel Henriques da Silva and José Maria Reffois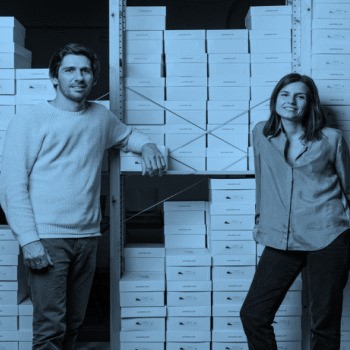 Isabel and José are the faces behind JAK Shoes. Founders of the OFFICINA Lisboa project, in 2014 the duo created a unisex and sustainable brand. After Porto, a new store was now opened in Lisbon
How was this project born?
JAK was born in 2014. It was a natural process because we already had some knowledge in this industry. Since 2012 we had another shoe brand, OFFICINA Lisboa, dedicated to classic shoes, with more traditional collections, for both men and women. As time went by, the need to create another brand arose. JAK is a completely different business model from the one we had at OFFICINA Lisboa. We chose to create a mono-product, unisex brand that was more sustainable from the start, without resorting to biannual collections, as traditionally done. Instead, we are having periodic releases one model at a time, which will be classic and timeless in the first place.

Was the footwear sector a natural choice?
Yes it was, and as we also knew the industry, it turned out to be natural and easier to start a new brand, despite having a completely different concept, business model and product than we had done in the past.

What are the biggest challenges?
At this moment, the biggest challenge is transversal to most brands with our size and business model: it involves overcoming the difficulties inherent to the pandemic we are experiencing. Despite all the difficulties JAK has continued to grow during this year and a half, which is very good.


Opening a new store is the latest news from JAK. Why the decision to have physical spaces?
Since the beginning, JAK has always focused more on online and it continues to be so. However, we believe that having physical spaces that convey the brand concept is very important for our growth and for the close relationship we want to have with our customers. In our stores, as well as online, we make a point of having a very personalized service, where the customer is integrated into the brand's spirit and concept, which also helps us to evolve and grow.

Both the store we have in Porto since 2019, and the new store in Lisbon that opened this year, were created in partnership with Arch. Tiago Silva Dias, who started with a pair of JAKs to later develop the projects. In this way, both stores very well reflect our brand and product philosophy where, just as we do with our shoes, the materials used, the minimalist design are always highly concerned in terms of durability, quality and sustainability. Thus, we believe that all aspects and experience that a customer has in the brand are very well integrated, whether through digital channels or physically in the store.

How does JAK stand out in the market?
We believe that JAK is a brand that stands out in the market for its quality, construction, timelessness and minimalist design. However, allied to these principles, we are a brand that believes and strives for transparency in communication with our customers, where we try, as mentioned above, to integrate the customer into the spirit and evolution of the brand.

Our goal is to create products that customers trust and know that they are making a safe investment, that they age well and are not out of style. We are a direct brand to the consumer, and that is why we can offer a fairer price for the best possible quality in sneakers made from the best materials.
What are the plans for the brand? What can we expect?
Our plans for the future include continuing to focus on online growth, the integration of customers into the brand through the experience they have in store and online and as everything stabilizes after this more complicated period due to the pandemic, the store opening plan in some European capitals where we believe it makes sense to have a closer relationship with customers we already have in those countries through our online store or who have already visited us in stores in Porto and Lisbon.

What advice would you give to a young person just starting out in the industry?
We would say that it's worth taking the risk and that with a lot of work you can reach the goals and overcome the complicated phases. You must be resilient and have some persistence.