Moncler launches new footwear line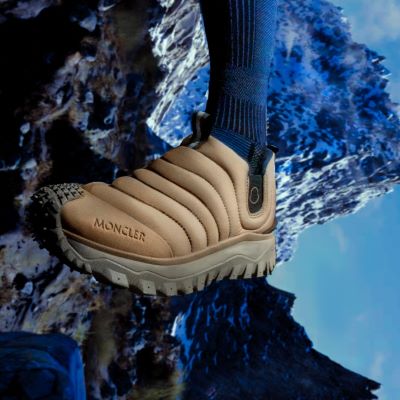 Seeking to accelerate the development of its footwear segment, the Milan-based luxury brand announced the launch of the Trailgrip collection, inspired by its mountaineer heritage
"Moncler's footwear business has been growing very nicely in the last year, but still well below its real potential. Now we are ready to take up this challenge. We know that sneakers are a must for our Moncler communities", commented Remo Ruffini, Chairman of Moncler, during his opening speech at the company's Capital Markets Day in May.

Aiming to bring the outdoor look and performance into luxury use, with daily city use, the luxury brand released the Trailgrip line, which includes four segments – city, outdoor, street, and hybrid-inspired -, and explores new shapes, proportions, materials and manufacturing techniques. The brand states that "the diverse line-up is defined by utility and united by a distinctive, rugged sole, inspired by maximum-traction mountain bike tires. The exaggerated tread and curved rubber toecap reinterpret fashion-forward edge, while ensuring ultimate durability and protection on the trail, or in the city".

To underline "the Trailgrip's unflinching outdoor credentials", Moncler partnered up with the outdoor specialists Cordura, GORE-TEX and Vibram, the last of which guarantees traction through its Megagrip lugged rubber soles. The Ortholite Sockliner is also incorporated underfoot for added comfort, combined with a heel clip for stability.

The line-up debuted with the 100% waterproof low-top leather sneaker Trailgrip GTX, released in four colours (classic black, black with red, blue with teal and purple accents, and glacial white), and a high-top Trailgrip GTX High is expected to follow later in the year, referencing Moncler's proud mountaineering history, with a range of contemporary, hiking boot-influenced styles. Meanwhile, the Trailgrip Après and Trailgrip Après High offer a more toughened-up take on the alpine snow boot.

Image Credits: moncler.com