Merrell launches beta version of shoe adviser app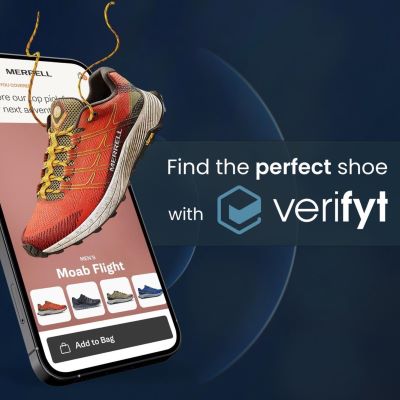 The Wolverine Worldwide brand partnered up with the smartphone 3D body scanning technology NetVirta to launch a mobile app that ensures accurate shoe fit recommendations
The application, which is powered by NetVirta's scan technology Verifyt, will offer Merrell's consumers a "gamified AR powered 3D experience to find the correct shoe, size and fit", allowing the footwear company to address the issue of returns due to poor fit in online shopping. According to the technology company, the scan of their feet will take less than a minute, and generate an "accurate personalized" size recommendation.

"At Merrell, we are constantly looking for new ways to improve the consumer experience in the outdoors. Fit of shoes is a major pain point for many consumers, especially while shopping and it is the reason why piloting this emerging technology with NetVirta in our mobile app felt like a good partnership", commented Janice Tennant, Chief Marketing Officer of Merrell.

"Our smartphone 3D scanning technology meets the increasing demands of footwear and apparel retailers to find ways to help their customers shop online with confidence, while reducing returns. Our technology was originally built for the medical industry, and meets the demands retailers have for accuracy, speed and ease of use," added Jeff Chen, CEO and Co-Founder of NetVirta.

Image Credits: oicompass.com