Register to continue reading for free
Is footwear re-shoring a myth?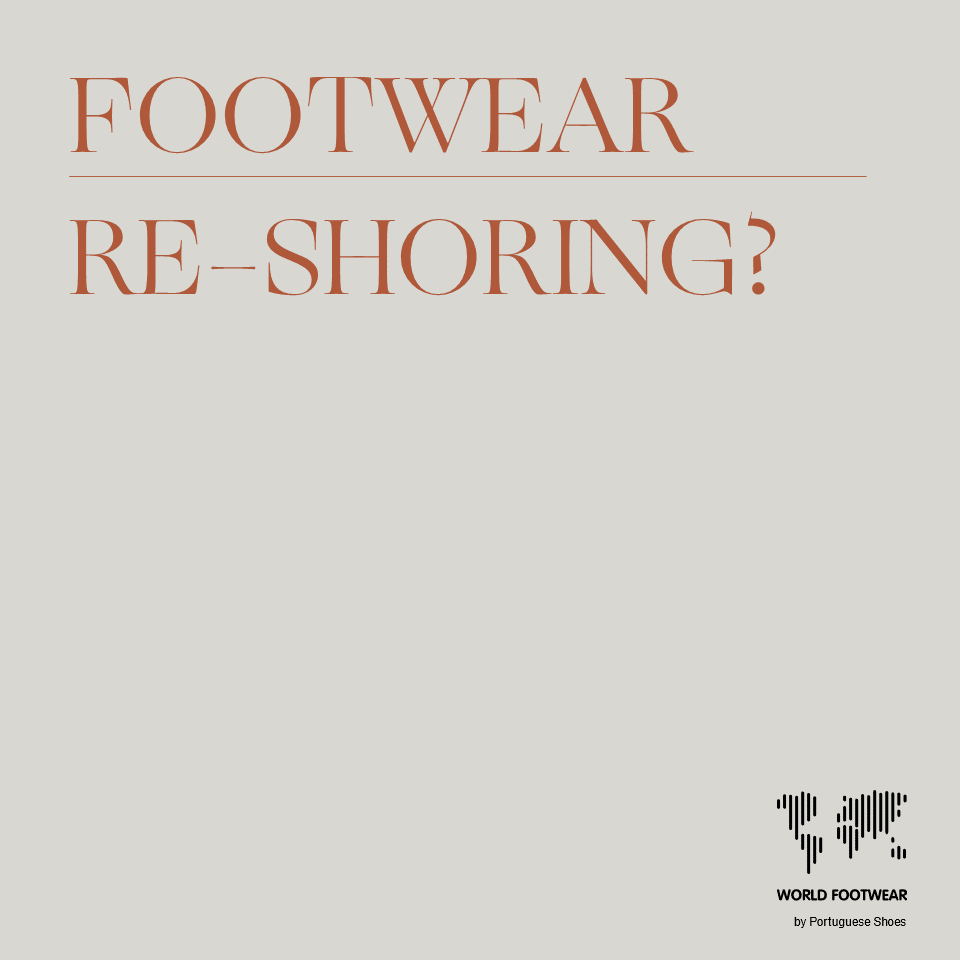 With the geographical distribution of footwear production remaining relatively unchanged over the past decade, is re-shoring a myth or can we find its evidence in the numbers?
Re-shoring in the footwear industry has been a topic for some time, even before the pandemic, however with COVID-19 the conversation reached new levels of intensity.

Having a look into the different markets and geographies of the footwear business, Asia, is without any doubt the leader: in 2022 it held a share of 87.4% of the total volume of footwear produced worldwide, being the origin of almost 9 out of every 10 pairs of shoes. If we have in mind that in 2010, Asia's share was 87%, and other continents have maintained theirs also (for example, North America stands around 2% as it was in 2010.) it can be easily concluded that the geographical distribution of footwear production, at continental level, has remained relatively unchanged over the past decade.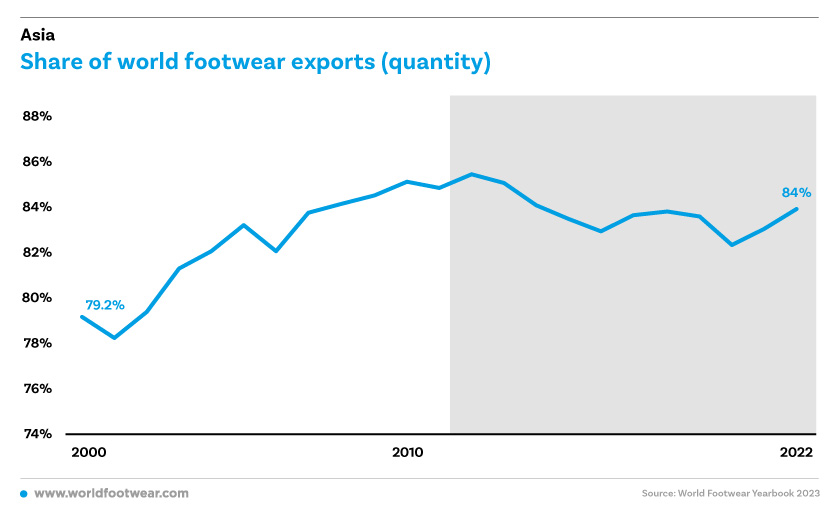 Considering these numbers, re-shoring seems to be of a very limited scale. At least, there seems to be no evidence of nearshoring, or of production being "brought" near the US and European markets.
What is happening in Asia?
If we only look into Asia's figures as a whole, we might not capture another reality: the moving out of China.

It is true that a significant part of Asia's share belongs to China, which in 2022 produced almost 55% of all footwear manufactured globally. Last year, China exported 9.3 billion pairs of shoes, a 61.3% share (global exports reached 15.2 billion pairs in 2022).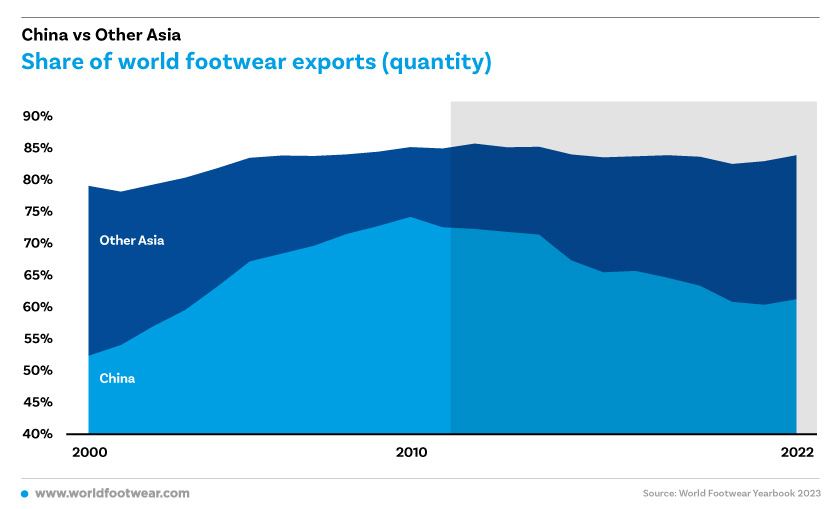 However, what is relevant to note is that China is losing ground and in the last few years, it lost production share and export share. In terms of
quantities exported
, in
2000
, when China joined the World Trade Organisation (WTO), its share in global footwear exports was a
little over 50%,
and since then it grew consistently, ripping the benefits of joining the WTO and opening to the international markets, until it reached
74.3% in 2010
. In the last decade, the movement inverted and last year (2022)
China's share
in exports was a
little over 60%.
Who is winning China's lost share?
The
other Asian countries are the big winners.
For example, Vietnam is the success story of this industry in the last decade, as it now represents 10% of world exports (2% in 2010) and produces 6.3% of the total manufactured in the globe (3.8% in 2010).
If in the previous decades, big brands and big companies have packed their bags and moved into China, the movement we are witnessing now is in the opposite direction, with production costs being the bigger driver of this movement. Manufacturing labour costs in China have increased very rapidly and intensively in recent years. Back in 1990, China was, from this perspective, the cheapest country in the region. Now,
in little more than a decade wages and salaries multiplied by 3
. While some of their neighbours have salaries that are only one-third of what Chinese workers receive. As a consequence, in past years, Chinese average prices have increased significantly. Back in 2010, the Chinese average export price of footwear was only 3.39 US dollars. Last year it reached 6.19 US dollars (an increase of more than 80% in 12 years).
A need to
diversify the supply chain to avoid dependencies
(COVID-19 experience), and recent
geopolitical tensions
(such as the "commercial trade war with the US":
follow the link for a recap of the topic
) help to explain the rest.
In this scenario, it seems that
Asia's competitive landscape for manufacturing has completely inverted out of China
, and now there is a new search for alternatives, not only by the footwear industry but by manufacturing players in general.
Is the footwear industry really moving out of China?
It is not easy to find a country or a group of countries that can "replace" the capacity of China. However, as labour costs in China have increased significantly in the last few years,
the pressure to move out is big
. Especially as neighbouring countries have lower labour costs.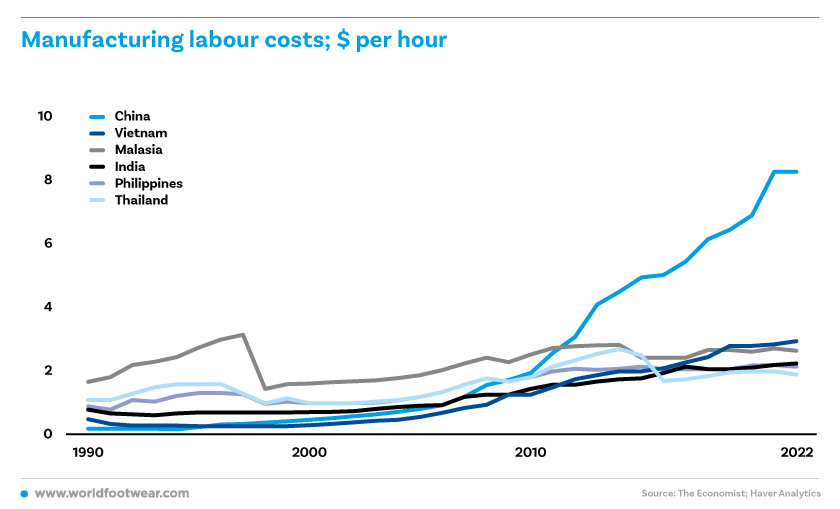 China has also been making a massive investment in industrial robotics, and according to the World Robotics 2022 Report the country is now in the 5th position of the top-ranking robot density, surpassing the United States for the first time. This is in line with the high salaries trend of the last years.

For industries that are labour-intensive, like footwear, if the infrastructures are not able to increase automation in the face of rising labour costs, they will need to look into new destinations. This is not something new for the footwear industry, which has been doing this for decades (Europe's share in production was over 30% back in 1985, before the big brands moved into Asia).
Find more information about the World Footwear Yearbook 2023 by clicking HERE