Hermès reports strong growth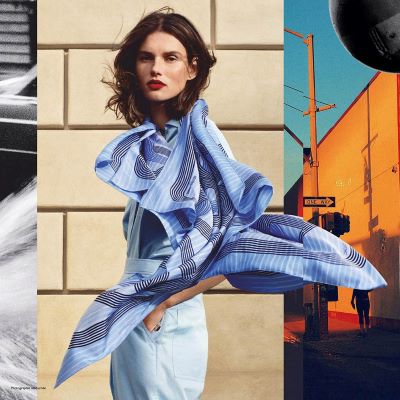 In the third quarter of 2021, the group's consolidated revenue totalled 2.37 billion euros driven by an upturn in sales in Europe, an acceleration in America and a sustained dynamic in Asia
"The performance of the third quarter reflects an atypical year, during which we continue our strategic investments and accelerate job creations. In a world that remains unstable, the balance between our sixteen métiers and between our locations around the world, allows us to move forward with optimism and caution, while continuing to create beautiful, high quality, sustainable objects", commented Axel Dumas, Executive Chairman of Hermès.


Sales by Geographical Area
In the three months to 30th of September 2021, sales increased by 31.2% and by 40.3% at constant exchange rates, as compared to the same period of 2020 and 2019, respectively. All the geographical areas posted double-digit growth, as the group's network continued to expand with store openings and extensions, and online sales continued to increase worldwide. Wholesale activities remain, though, penalized particularly by travel retail.

Asia excluding Japan continued to present a sustained activity, driven by a "remarkable" performance in Greater China and other countries, despite new restrictions in Australia, Thailand, and Malaya. During the third quarter of 2021, sales in this region increased by 29.3% at constant exchange rates, as compared to the same period of 2020 (32.3% published). America's revenue increased by 48.4%, constant exchange, as compared to similar period of 2020 (45.6% published). Europe recovered during the third quarter of 2021 with revenue growth of 40.3%, on a comparable basis to the same period of 2020, both in constant and current exchange rates, benefiting from the support of local customers, growing online sales and the partial return of tourist traffic. Japan posted the smallest growth at constant exchange rates, with an increase in sales of 4.0% (-1.4% in published terms).


Sales by Business Lines
At the end of September 2021, all business lines registered double-digit accumulated growth, on comparable basis to 2019 and 2020, with "an excellent performance over the third quarter and an outstanding increase in Ready-to-wear and Accessories, Watches and Other Hermès Business lines (Jewellery and Homeware)". Growth in the first nine months of the current fiscal year totalled 57.2% at constant exchange rates and 54.0% at current rates.

In the third quarter of 2021, sales in the Leather Goods and Saddlery division profited from significant deliveries and sustained demand, growing by 22.2% at constant exchange rates, on a comparable basis to the same period of 2020. Overall, sales in this division increased by 45.9% in the 9 months period to September 2021. The group highlighted the contribution of the opening of the maroquinerie de Guyenne, the 19th leather goods and workshop of the house and the plans to increase production capacity in the coming years, as well as the opening of the École Hermès des savoir-faire, which is accredited by the French Education Department.

On a comparable basis to the third quarter of 2020, at constant exchange rates, the Ready-to-Wear and Accessories segment grew by 39.4%, the Silk and Textiles business line also performed well, increasing by 49.2% and Perfume and Beauty sales rose by 32.5%. The Watches business line revenue increased by 53.7%, "reflecting the technical watch-making expertise and creativity of the collections". The Other business lines confirmed their momentum due to Homeware and Jewellery sales, growing by 47.5%.


Currency Fluctuations
In the first nine months of the year, currency fluctuations represented a negative impact on revenue of 139 million euros.


Outlook
The group confirmed it expects revenue growth, at constant exchange rates, in the medium term.


Image Credits: fashionotography.com