Brazilian designer creates shoe inspired by Cup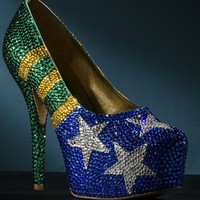 With little time left until the World Cup in Brazil, the shoe designer Fernando Pires, - famous for high heels, - created a model inspired by the Brazilian flag, stylised with eight thousand Swarovski crystals. The project is a great success in the USA.
Nicknamed the architect of feet, Fernando Pires attracted attention when he worked as an architect. Designing shoes for friends started as a hobby, later becoming something more serious.
Pires produces, by hand, the objects of female desire for over 30 years.
His shoes have already been worn by Madonna, Dita Von Teese, Mariah Carey, Liza Minelli, Dolly Parton and Beyonce. "When platform shoes began to be fashionable in the world, my clients had already been using them for a decade" said Pires.
Pires shoes are market in the U.S. by The Fashion Of Brazil