Register to continue reading for free
Anna Yona: we all need to be part of the solution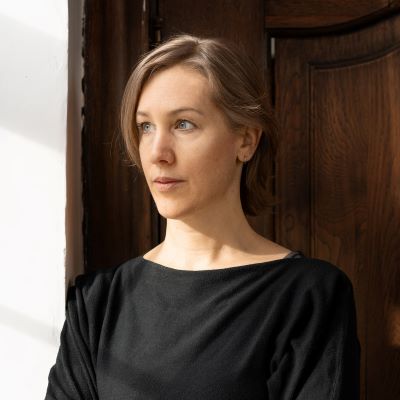 We have spoken to Anna Yona who founded the German company Wildling Shoes alongside her husband, Ran Yona, in 2015, to find out a bit more about its innovative concept of healthy shoe and how one original idea grew into a brand awarded for its design and quality standards
The Wildling Shoes journey began in Israel where the couple lived with their three children before the family decided to move to Germany in 2013. At that point, finding suitable shoes for the kids who were used to running around barefoot on Israeli ground became the biggest challenge. None of the models seemed to meet the family's requirements in terms of freedom of movement, sustainable materials, and fair production. Anna and Ran knew nothing about shoes, but that did not stop them from trying to find a solution, "We bought lots of shoes, and we cut them open and looked inside and then my husband who is a sports therapist tried to understand what makes a child move differently".

Starting with the goal of making a shoe that fitted like a glove on their children's feet, the outcome was a minimal shoe which uses robust and durable materials, made predominantly from eco-friendly materials. Its thin, flexible and innovative sole impacts positively the wearer's walking experience and overall health, and its minimal design facilitates a natural gait. Initially launched as a kid shoe brand, Wildling Shoes soon became a family brand, as people started saying, "We want these shoes for ourselves, not just for our kids".

However, Wildling Shoes is far from being a brand exclusively focused on its product. The company seeks to broaden its positive impact to all the areas it can influence, and that concerns the people, the environment and even the way of doing business.
Making The Shoe
In the beginning, the biggest challenge for Anna and Ran was to find the right partners for the endeavour, as they were looking simultaneously for experts in the field, but also for people open to new ideas.

First, they searched for a designer online, ending up selecting one who was then living in Mexico. Thus, they collaborated remotely, sending "emails back and forth". After solving the upper design the couple turned to the shape, carefully overseeing the process to ensure that it would be a healthy one, capable of providing free movement, instead of just a beautiful one.




Finally, Ran travelled to Portugal to find the right manufacturers, that is, people Wildling could talk to and work together with as a team, people who believed in the project despite it not being an easy task since they wished to make a prototype that corresponded in its entirety to the model on the paper.



Why Portugal?
Anna told us of their personal connection to the country, as they had previously been in Portugal and were already familiar with our culture. Nonetheless, the couple also considered the Portuguese footwear industry environment to make that decision, "We saw that there is a lot of knowledge, that investments have been made in factories to modernize, and we also liked the fact that it is often family-run businesses". Besides, in Portugal, "people are willing to try something hard, even if you don't have a large amount of production order" in the beginning. Additionally, as a European country, Portugal met the legal requirements that Wildling wanted to follow regarding labour rights and protection, but also regarding environmental standards.




Sustainability
It can be said that sustainability has been a travelling companion since the moment the couple called upon themselves the decision of sourcing the raw materials, instead of letting that task for the factories. The founders of Wildling Shoes took the time to point out that much harm has been done so far, therefore, one of their priorities is to support renaturation and reforestation projects and to cultivate sustainable raw materials together with their partners.





Nonetheless, Anna takes up sustainability a notch, regarding it as vital to question everything we do: "It concerns all areas of the company. It concerns the way we work together. It concerns the way we work with our partners".





She urges us to consider the importance of redefining the meaning of "factory work" to help stop environmental destruction and foster healthier workspaces. "Can a factory be like an ecosystem? Can we have gardens, animals and make the work much more interesting? It goes into finance, too, in how we use the money. Does it work for a few people in the company, or is it redistributed among the team, the people we work with? We need to work on both sides: we work with local shepherds to source the wool from them and they have better income because we pay more for the wool that we buy".






The People
Today, Wildling Shoes employs around 270 people, most of them women and young parents, often on a part-time basis, who work 100% remotely and digitally from their home offices. The decision to work remotely and in a decentralized way happened almost by chance. It began, again, with Anna and Ran's three children who were small and both wished to be at home to take care of them. Nevertheless, Anna feels that working from home is a productive solution, allowing its employees to easily balance their personal and professional lives.





But that does not mean that Wildling Shoes does not consider the benefits of working in person. In fact, Anna feels that the perfect solution would be "to work from home whenever you want, but to have a possibility to go out and work with other people". To do so, she thinks that the companies must provide spaces able to inspire and foster collaboration, that is, both larger and quieter meeting rooms, spaces that can combine virtual and in-presence meetings, areas to eat together, to brainstorm, to do a networking event or invite people over. Anna shared with us a vision that even includes different companies in a common space as she feels different perspectives would enrich their innovative process not only as a company, but also every person. At the moment, Wildling can provide spaces for small team meetings but intends to scale them for larger groups.



Work Culture

Anna feels the best way to engage every person in the company is to communicate their purpose clearly, so the team knows not only what they are working for, but also why they are doing it. "I think it is important to have meaningful goals", goals that "people would love to work for", as well as creating an environment that allows every employee to set their own goals, according to a common set of values.





In addition to the promotion of this alignment within the company, the co-founder of Wildling believes in the importance of social exchange which must be ensured even when people work remotely. She shared with us that a half hour meeting each week is reserved to talk about everything but work, and that there is a practice of arranging 'random coffees' between employees who usually don't work together or don't even know each other.



COVID-19 Pandemic
The coronavirus pandemic remains yet an unavoidable subject, and one that had a big impact on the Wildling Shoes team. "In the first half of the year, you don't feel it, but then you start feeling it", recalled Anna. "We have many parents on the team", so the closure of the schools and kindergartens added extra pressure to the natural worries over their health and the health of loved ones. Wilding reduced their working hours, maintaining the same pay, and offered two hours of child-care each week when possible. Moreover, they removed some goals previously established to offer some kind of relief.





Unfortunately, the mental distress is still terribly felt. "We have people who are dropping out with mental health issues, such as depression and burnouts. It's very hard to counter that as an organization, but you can at least try". Thus, the company is offering resilience trainings. These are six-weeks courses intended to help every employee to cope with the hardships they are going through.



Direct-to-Consumer business
Wildling Shoes remains a direct-to-consumer business mainly because it has a very expensive product. "It is a simple shoe, but very hard to make. Production is expensive, and the materials we put in it are very high quality. So, in order to be able to offer a shoe at a price that is still affordable, we have to go directly to the consumer". Anna adds that the direct-to-consumer strategy allows them greater "sovereignty" over the way their product is represented and gives them more opportunities to push for a fairer price at the production level.





She then explained to us that Wildling started with a crowdfunding campaign, meaning that future customers were the ones investing in their development. They also have been using social media platforms, especially Facebook back in 2015. There and today also on Instagram Wilding has been building a strong community where people can get in touch with each other. Currently, Wildling uses several channels to communicate, like other social media platforms, but also a blog and a newsletter to feed their customers with news about the company.





Anna acknowledges, though, that this poses greater challenges today because these very channels, which fostered organic growth in the beginning, demand now that companies have a budget to effectively reach their customers (what may be challenging in the beginning when you are just trying to be profitable). Nevertheless, Anna believes that if you "have a unique selling proposition", which concerns not only a product, but a project, you will want to "stick with it and it doesn't matter then if you grow slower".



Future
When asked about the future of the brand, Anna shows herself incapable of running away from the great challenges of our time - speaking of climate change and social injustice. "It is our responsibility to try and find ways in which companies can be a part of a positive change".

For Wildling in particular, with the United States as its biggest foreign market, the great challenge now is to decentralize supply chains, that is, to create a supply chain in its territory to reduce environmental harm. Therefore, the company is trying to find ways to reconcile its natural focus on internationalization with its sustainable practices and principles.

Anna left us one last message, concerning not only the footwear industry, but all industries and each one of us. "We all need to be part of a solution and not continue to enlarge this problem that we've created together. We need to open our eyes to the problems we are creating globally, both socially and environmentally, and we need to change that. We need to ask ourselves where we want to be ,what do I want to tell my grandchildren and what did I do when we were faced with these challenges? So, this is not about how much my company is going to grow, or this sector. I understand these are pressing problems, but it is not what we should be dealing with".