Sanjo expands its range into children footwear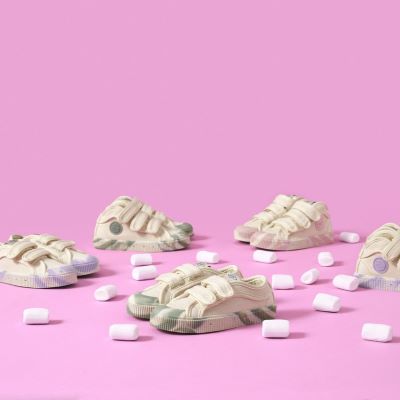 The 90th-years old footwear brand expands its offer to children with the launch of "Sanjo Kids". The first collection features a collaboration with the Portuguese artist Wolf & Rita
"Our aim is to forge affective bonds between the adults and the children who wear the brand by creating an imaginary where children explore their creativity and immerse themselves in Sanjo's DNA at an early age", explains Vítor Costa, the Portuguese's brand creative director.

The new collection is inspired by adult styles, and vice-versa. Fun, the yearning to enjoy life and escape the routine of the digital age served as motivation to transform the colours of the soles and patterns of the adult collection into proposals for the little ones.

"We want Sanjo to feel like a common good, we don't want to differentiate between genders or ages", adds Vítor Costa, who believes it is possible to put all ages into Sanjo, making it a brand of and for the whole family, with matchy-matchy options for children and adults.

The launch of Sanjo Kids is also accompanied by a special collaboration with the Portuguese artist "Wolf & Rita". "Pattern Mint", "Black Garden" and "Red Heart" are the three models that are part of this capsule, made up of patterns that pay tribute to Sanjo's legacy while promising to be the best partners for many games.

Source and Image Credits: portugueseshoes.pt