Puma focuses on survival and recovery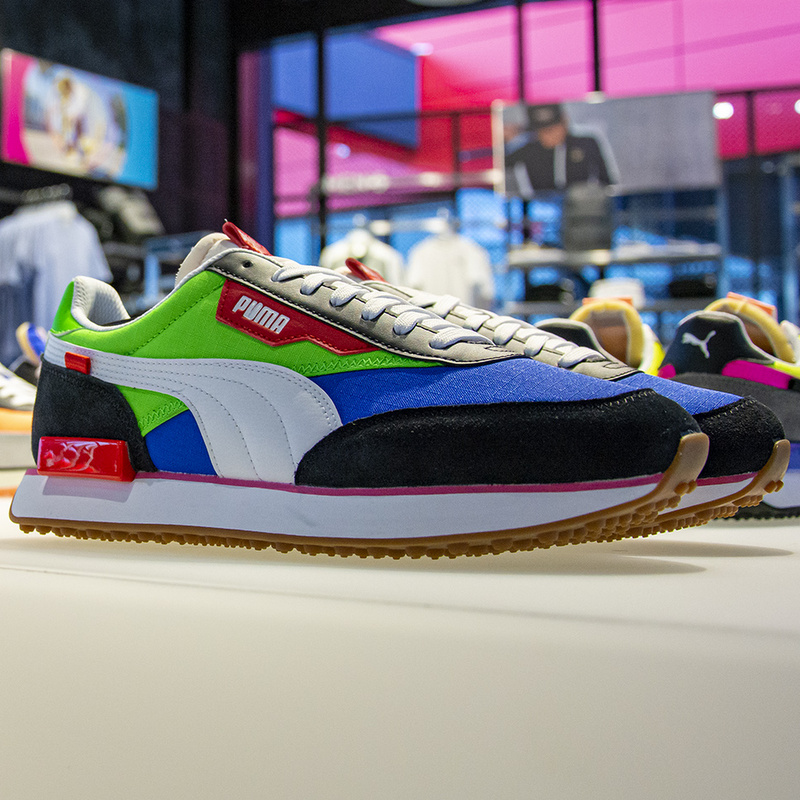 The sportswear brand is working with 3 phases - Survive, Recover, Grow Again - as it deals with the impacts of Covid-19. First quarter sales declined by 1.3%, but in the current quarter revenue is at 50% normal level
"2020 started very well with a great order book, strong sell through and record retail numbers. Then, at the end of January, the Covid-19 virus hit China. Since then we have worked to minimize the damage short-term without hindering the mid-term momentum of Puma. We are looking at three phases: Survive, Recover, Grow Again. The different markets are at different stages (...) To survive this crisis in cooperation with all our partners such as retailers, suppliers, landlords, financial institutions, authorities, investors, and customers is crucial. We can only get through this together. The first quarter was difficult, but we feel we did a decent job. The second quarter will financially be even worse with more than 50% of global sports and sport lifestyle space being closed. We are mitigating the impact on our revenues wherever we can by focusing on ecommerce and the markets that are opening up again. We are working with our factories and other partners in our supply chain to minimize the damage, assure timely deliveries, avoid excess stock as much as possible and to find fair solutions for all of us. We have asked all partners to get additional financing to ensure operations through this crisis and we have just secured a 900 million euros revolving credit facility (RCF) to bridge the time with reduced inflows ourselves", commented Bjørn Gulden, Chief Executive Officer of Puma.


First Quarter Results
After starting the year with the right foot, with strong growth across all regions, Puma started to feel the hit in China. The Asian giant, which started the year with double-digit growth in Puma's wholesale, e-commerce and owned and operated stores, shut down in the last week of January. Over the next six weeks, the whole business in China, except for e-commerce, basically disappeared. As China started to recover in mid-March, Covid-19 was spreading globally, resulting in around 80% of Puma's locations closed by the end of the month. As a result, PUMA's sales declined in the first quarter of 2020 by 1.3% currency adjusted to 1 299.8 million euros (-1.5% reported). China, Japan and Korea were the most severely impacted countries and led to a decline of first quarter sales in the Asia/Pacific region of 12.0% currency adjusted. The EMEA and Americas regions, having been negatively impacted since March 2020, still showed a slightly positive sales development in the first quarter, increasing by 3.5% and 3.1% currency adjusted respectively.

The first quarter wasn't was bad as it initially could be expected; however, in the current quarter, Puma's global revenue is at about 50% of what would be the brand's normal levels.

In terms of product divisions, footwear grew by 1.9% in constant currency while apparel and accessories were down by 6.3% and by 0.2%, respectively. Both wholesale and retail channels were significantly impacted by the store closures instructed by local authorities around the globe. At the end of the first quarter, almost all Puma's retail stores and partners were closed. Sales in e-commerce grew by around 40% in the first quarter.
Net earnings went down by 61.6% from 94.4 million euros last year to 36.2 million euros in the first quarter of 2020. Consequently, earnings per share decreased from 0.63 euros to 0.24 euros.


Outlook 2020
The brand said it is already seeing to see an improvement in the APAC (Asia Pacific) region, where especially China and South Korea are recovering. In Europe some stores are also in the re-opening process but the distribution in Americas is still almost fully shut down. Ecommerce is growing at a high rate, but this growth cannot in any way compensate for the revenue loss in the other channels.
Given that a large proportion of the global sports and sports lifestyle distribution is currently closed, and given the estimations of the brand which point to current revenue to be at only 50% of normal revenue, Puma expects the financial performance in the second quarter to be worse than in the first quarter. The development over the coming weeks and months is so unpredictable that Puma says it "cannot provide a reliable financial outlook for the full year 2020", however, management "expects all markets to recover by the end of the year and 2021 to be a year of growth again".