Puma, Balmain and Cara Delevingne together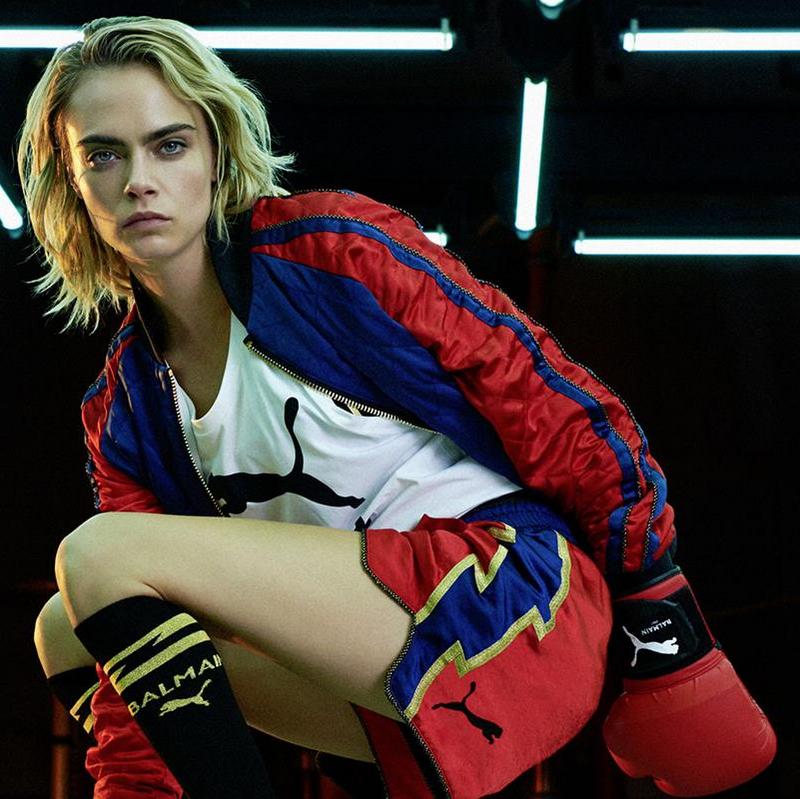 Brands Puma and Balmain join to debut their first creative collection with artist Cara Delevingne
This newly announced partnership takes the form of two limited-edition capsule collections, both designed by Balmain's Creative Director Olivier Rousteing and English actor and model Cara Delevingne. This is Puma's first-ever collection with Cara Delevingne, who has been working with Puma since 2016.

In Olivier Rousteing's view there's no modern-day style icon who better personifies the "troublemaker" theme of his Balmain Fall 2019 runway than Cara Delevingne. The two have partnered on several projects together over the past few seasons, with Delevingne fronting campaigns, closing runways, starring in videos and collaborating on the design of special-editions for Balmain.

In a recent release Puma said: "In a collection that's the first of its kind, three forces come together: the irrepressible spirit of Cara Delevingne, the luxurious sensibilities of Balmain, and the performance heritage of Puma. This new collection stands at the intersection of sport and fashion, with pieces inspired by traditional boxing gear and infused with Parisian couture. Bra tops, boxing shorts, and sneakers are elevated with a stark colour palette, hits of gold, and design elements straight out of Balmain's atelier.

One collection of footwear, apparel and accessories, produced by Puma, will be carried in the brand's own stores and puma.com, as well as at select independent retailers. Balmain will also carry a selection of items from this line in its own boutiques. Another collection of six items, produced and distributed by Balmain, will be shown as part of the Parisian house's Spring 2020 designs and carried at Balmain addresses worldwide, as well as online, at Balmain.com. Select retail partners will also carry items from the collection.

Olivier Rousteing emphasizes that this is not just another fashion collaboration: "Cara is a good friend, and this is the fruit of a shared vision. Everyone involved - PUMA, Balmain, Cara and me - was determined to create something timeless. Above all, we knew that our message needed to be a strong one, reflecting exactly who we are and what we believe in."

To highlight the collaboration, a powerful, boxing-inspired, interactive campaign, shot by Brianna Capozzi with Creative Direction by Philippa Price, will focus on both the Balmain - and Puma -produced designs. Starring Delevingne, the video and photos will premiere in October 2019. The collection will launch on the 21st of November.