Zalando heading towards the 3 billion euros revenue threshold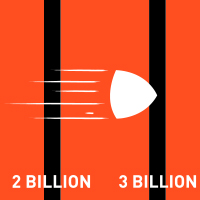 Europe's leading online platform for fashion, has announced third quarter results, strongly impacted by growth in its market share. The company almost reached full year 2014 revenue levels after only 9 months of 2015
Bearing in mind the results now presented, Zalando will reach close to 3 billion euros in revenue for the full year 2015 and will have around 10 000 employees by year-end.
Group revenue in the third quarter of 2015 grew by 42.2% totaling 713.1 million euros, which represents incremental revenue of more than 200 million euros compared to the prior year period (501.4 million euros in similar period in 2014), putting total revenue for the first nine months of 2015 at 2.1 billion euros (1.5 billion euros in similar period last year).
The number of active customers grew further to a total of 17.2 million in the third quarter (14.1 million in similar period last year). Zalando registered 394 million site visits in the third quarter of 2015 (322 million visits in similar period in 2014), with 58.8% of visits coming from mobile devices (growing from 43.3% last year). The Zalando app was downloaded in total around 14 million times by the end of the third quarter of 2015.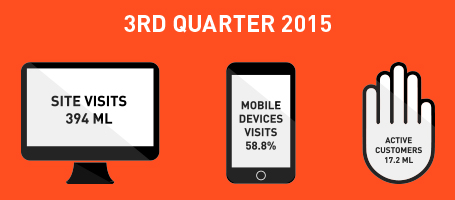 According to the Germany-based company Zalando's focus on the customer remained the key driver of growth, with customer satisfaction hitting an all-time high in the third quarter. Zalando introduced additional brands to extend the depth of its product range and further improved customer convenience, for example through faster delivery and easier returns. The evolving mobile offering plus successful brand building campaigns also helped to increase customer engagement.
Rubin Ritter, co-CEO of Zalando, stated: "Our accelerated growth is driven by very strong customer metrics, so we are clearly making the right investments. We are confident that we will deliver a unique combination of fast growth and clear profitability for the full year, which is also the right path for us going forward."
Continued tech hiring and associated platform initiatives, plus the expansion of the fulfillment network will support Zalando's growth trajectory going forward. Initial work around its new fulfillment center in Lahr and the full build-out of its facility in Mönchengladbach have started and are on track.