World's largest duty-free shopping complex opens in Hainan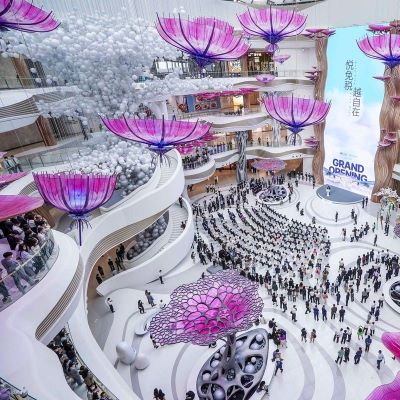 Regarded as the world's largest duty-free facility, the Haikou International Duty-Free City Shopping Complex, located in the province of Hainan, China, is now open to the public
The complex, constructed by China Duty-Free Group (CDFG), is located on the west coast of the city of Haikou, next to Xinhai port, a major transportation hub, and has a total building area of 280 000 square metres. According to official government sources, the mall intends to provide new and diverse tourism and shopping experiences for consumers, and "features more than 800 notable brands (…)", and over 50 concept stores with the latest designs.

Luxury has a prominent place in this complex that counts already with the presence of Alexander McQueen, Balenciaga, Bottega Veneta, Burberry, Moncler, Prada, and YSL, among others. Forbes added that more niche international luxury names, such as Ami Paris, Christian Louboutin, Maison Margiela and Thom Browne, are expected to join.

Hainan became an alternative for Chinese citizens who found themselves unable to travel abroad to shop duty-free due to the zero-COVID-19 policy enforced by the Government. "With the continuous recovery of the domestic tourism market, CDF Group will maintain its dominant position in the tourism retail market in Hainan, and Haikou International Duty-Free City will become a new benchmark", said CDFG in a statement. Feng Fei, Governor of the Hainan province, stressed, at the opening on the 28th of October, that duty-free sales in Hainan accounted for about half of the province's tourism revenue in 2021.

Nevertheless, the Haikou International Duty-Free City Shopping Complex "is expected to attract overseas consumption to return and contribute to building Hainan into an international tourism consumption centre", explained Meng Li, General Manager of the complex. Olivier Salmon, vice-president of Perfumes Christian Dior Travel Retail China & Japan, who attended the opening, highlighted that "China has become a very important global travel destination for the retail sector. Many companies consider China to be among the most important markets, or even the number one market".

This shopping complex is part of the Haikou International Duty-Free City project, which comprises about 930 000 square metres and has six plots dedicated to duty-free businesses, high-end offices and hotels, as well as talent communities.

Image Credits: forbes.com