Retailers open to new suppliers at the GDS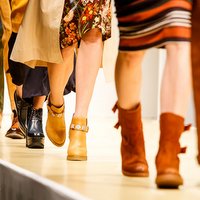 Winter trends, new collections and tomorrow's technologies. From the 10th to 12th of February 800 brands presented themselves at GDS. 100 exhibitors were present at tag it! – The Private Label Show held concurrently
The organizers of the Düsseldorf – based trade fair believe that the GDS worlds provided visitors with swift orientation and exhibitors with the best environment possible for presentation of their products. In their overall assessment the polled visitors gave higher scores for this segmentation than in the last two seasons – three out of four visitors even gave the trade show the top score for its hall segmentation. Accordingly, HIGHSTREET continues to attract visitors' strongest interest, while STUDIO and POP UP share the second place.

GDS was attended by 15 200 visitors in total, a number in line with the previous Summer edition (roughly 15 000 people visited the GDS in July 2015). Werner Matthias Dornscheidt, President & CEO of Messe Düsseldorf, admitted the wish to see higher retail attendance: "The shoe sector is currently going through a crisis. We are disappointed, nonetheless, that not more visitors found their way to Düsseldorf, all the more as those who came rated our concept higher than in the previous two seasons."

Kirstin Deutelmoser, Director of GDS and tag it!, also sees the biggest challenge in attracting more visitors: "The vast majority of GDS visitors were very satisfied. Together with the industry we have to keep on working towards tapping into new potential for the trade show."

The visitor's survey has revealed that retailers are paying great interest in new exhibitors, with half the visitors polled saying they had found a new supplier at this edition of the GDS. Moreover, 80% of the visitors surveyed admitted that they had changed at least some of their suppliers over the past three years. Almost one in two retailers is even considering increasing the number of listed suppliers. Over 64% of the visitors polled said that GDS fitted their seasonal planning very well with three out of four respondents attending GDS primarily for information purposes. Nevertheless, two thirds of the visitors indicated they have placed orders at the show.

44% of trade show visitors did not come from Germany and also came with some expectations towards manufacturers that differed from those of their German colleagues, as the GDS Survey revealed. When selecting suppliers German retailers attach more importance to reliable deliveries and good retail sales prospects, whereas foreign visitors are more interested in managed zone and shop-in-shop systems than their German colleagues. Of equal importance to all retailers are the quality/fit and value for money the collections offer.

According to the survey the high satisfaction scores given for the GDS services can also be attributed to the good exploration of the fashion trends. Visitors are most interested in the GDS catwalk shows such as the STUDIO Show that kicked off the trade show.

The next editions of GDS and tag it! will take place from the 26th to 28th of July 2016.