GDS presents 2016/2017 autumn/winter trends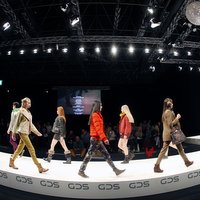 From the 10th to 12th of February the international shoe sector will be meeting in Düsseldorf for the 121st edition of the GDS – Global Destination for Shoes & Accessories. Just under 800 brands will present their collections for the new season

Werner Matthias Dornscheidt, CEO at Messe Düsseldorf, underlines the importance of GDS as an information show: "Despite the difficult climate we have once again managed to provide a comprehensive overview of the shoe sector. We hope as many retailers as possible will use this opportunity to exchange ideas with their suppliers and also discover exciting new collections".

According to the organizers, the GDS fashion shows and the shows held by individual brands will play a key role informing retailers on the key trends of the season. Forming the kick-off on the first day will once again be the Studio Show entitled "Maximal Minimal" featuring VIP guest Ruth Moschner.

One topic always of importance for shoe shopping is choosing the right shoe size. New technical possibilities to make this easier are to be presented for the first time at GDS.

Other news include a meeting of the industry and trade representatives on the first evening of the show taking place at the "Quartier Bohème" in the heart of Düsseldorf city centre to wind down from the business day in a relaxed social setting. This gives industry and trade attending GDS the chance to enjoy good conversation and nice food and drink in an atmospheric winter setting.

February 2016 sees GDS kick off the fourth round of the FashionBloggerCafé shoedition held in Hall 10. This time GDS will be presenting not one but two testimonial bloggers: the two sisters Sylvia and Julia Haghjoo. At GDS they will be selecting and examining the latest shoe and accessory trends, rating them with their fashion know-how and sharing the most important it-pieces widely.

GDS will take place in Düsseldorf, between the 10th and the 12th of February. Held in parallel, the private labelling fair tag it! – The Private Label Show will be hosting 100 exhibitors.