Puma and Solange renew partnership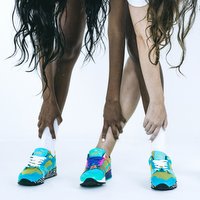 Germany based sports giant announced it will release its second collection of footwear under the creative direction of Solange

Building off of the success of the Girls of Blaze collection which launched in February, Solange has enlisted the original designers to re-interpret Puma's seasonal themes of "Wild Rebel" and "Natural Calm." The first drop from the collection entitled Wild Wonders featuring three styles will release on November 28th and the second, Behind the Bazaar featuring two styles will release on December 13, just in time for the Holiday season.

Singer, songwriter, producer and model Solange was announced as creative consultant for Puma last year. This partnership resulted in the release of the Girls of Blaze collection in the Spring of 2014. Solange has turned once again to her friends to help design the new collection. Gerlan Marcel of GERLAN JEANSGERLAN JEANS; visual artist, musician, and photographer Hisham BharoochaHisham Bharoocha; and Darlene and Lizzy Okpo, design team for the women's wear collection William OkpoWilliam Okpo, have each created their own unique interpretation of the seasonal themes.

The collection is centered around two iconic styles for the brand, the classic Puma Suede and the XT2. Each designer approached these silhouettes in their own way and brought in graphics, a mix of materials and colors or natural fabrics to create these soon to be favorites.

The new products from this renewed partnership will be available at select retailers in the US and globally beginning November 28th and December 13th, respectively.