Portuguese artisan represents Portugal at the Milan Design Week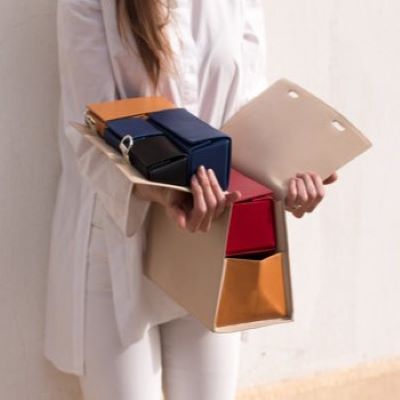 The founder and artisan of ASA Leather Work, Stéphanie Branco, presented her latest creation at Milan Design Week last month, namely the hand-stitched all-purpose backpack "Switch Bag"
As part of a project funded by the European Union, the Portuguese craftsman unveiled her latest disruptive creation at Milan's Design Week last April. The hand-stitched "SwitchBag" is, at the same time, a backpack, an office, a mobile home, a decorative object, an organiser, etc.

"In this age of nomadism and mobility, our homes and offices have no limits. They can and need to be transported everywhere, in a quick, organised and aesthetic way - the "SwitchBag" responds exactly to this need present in the lives of many of us", argues Stéphanie. With geometries and colours inspired by Mondrian's architecture and paintings, the interior divisions that make up the bag allow objects to be organised by category and found quickly. They are also decorative pieces that can be placed on a desk.

Stéphanie seeks daily to connect, through her creations, the ancestral work of leather and today's world. The "SwitchBag" is hand-sewn with top-quality leather from idle stock, using a technique that is in the process of disappearing in Portugal, used by Hermès, for example. "It is urgent to keep know-how alive and create a true appreciation of contemporary and author craftsmanship in Portugal", she concludes.

About ASA Leather Work
Coming from a family of artisans, women seamstresses and men shoemakers, Stéphanie paid homage to her shoemaker great-grandfather Luis Esperança with the creation of ASA Leather Work. "ASA means (in Malay) Hope and is also a word with multiple meanings and easy to pronounce" explains the founder.





It all started in 2010 when she made her first pair of shoes entirely by hand in Paris, where she was working as an architect. In 2016, she returned to Portugal to work in the footwear industry, becoming Production Manager for several national and international brands in Portugal. Later, in a self-taught manner, she started making a wallet for a friend and bags for herself, and the orders started coming in.





ASA creates made-to-measure leather objects in exclusive and limited editions, sewn by hand with two needles. The brand already manufactures for several customers, with a waiting list in countries such as Portugal, France, Spain, Norway, Switzerland and Italy. It also runs workshops, in which it is possible to learn about the various techniques used in the atelier, and manufactures prototypes for emerging brands.











Source and Image Credits: apiccaps.pt