Portugal: Quality leather goods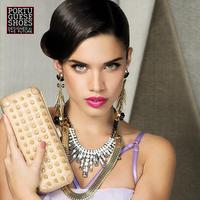 The leather industry is performing very well, at least in foreign markets. In the first half of 2013, exports increased by 29% to 49.5 million euros.
The sector is growing in almost all segments as "bags" (over 19% to 25 million euros), "clothing and leather accessories" (up 11% to € 5 million) and "other leather goods "(over 52% to 20 million euros).
Components also high
The components of footwear also had a positive first half of the year, with an increase in sales of by 11% to 25 million euros. Indeed, sales of "uppers" have retreated with 3% (to 3.8 million euros). This can even be interpreted as a good sign. Exports of "soles and heels" increased by 12% to € 14 million and "other components" increased by 21% to 6.6 million.
By market, highlight to better performances in Germany (over 5% to 15 million euros) and Italy (over 9% to 13 million euros) and the decline in Spain (down by 3% to 7 million euros).