Portugal: Portuguese footwear grows 4%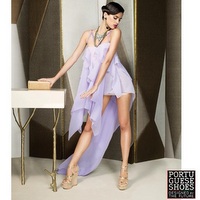 The Portuguese footwear exports returned to growth. During the first half of the year, Portugal sold 35 million pairs abroad, worth 789 million euros, which represent an increase of 4% over the same period last year.
Portuguese footwear is growing more than the national average (3%) and is maintaining a clear tendency to affirm in foreign markets. This is the third consecutive year of growth in exports (since 2010 sales abroad has increased more than 20%).
With closer examination, it is remarkable that the focus of the business into new markets is beginning to show results, or at least in markets with the greatest potential for immediate growth. In practical terms, sales in countries outside the EU have shown a 53% growth in the first half of the year which supports the current trajectory of ascent.
Highlights for export growth are countries such as Russia (plus 93% to € 16 million), Angola (over 113% to € 13 million), U.S. (up 26% to € 10 million), Canada (25% more to € 7 million) and Australia (plus 94% to € 4 million). Further enhancement, particularly for its symbolism for good performance in the UAE (more 280% to € 2.5 million) and China over 73% to 1.5 million euros.
In Europe, however modestly, the performance of Portuguese shoes is also positive (up 0.7% to € 698 million euros). The behavior of Portuguese footwear in many countries is fundamental for the following outcomes: France (up 0.7% to € 195 million), Germany (up 2.4% to € 153 million), Netherlands (13% over € 107 million) and the UK (up 2.3% to € 54 million). Concerns were the centred around outcomes in Spain and Denmark. Sales for the Spanish market fell 4% to 79 million and exports to the Nordic country decreased from 26% to 29 million.
The price of the Portuguese footwear exports has increased by 5.7% and now stands at € 22.33.
At another level, the footwear again strengthens its contribution to the Portuguese trade balance (about 600 million euros in the first half). From January to June, imports fell to 9.3%, to 25 million pairs, worth 200 million euros.