NEWALK project presents results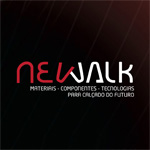 Areas of research included materials, components and technology for footwear
Under the NEWALK project significant steps were taken in several research fields covering new materials and products, technologies, logistics, quality and health. The results obtained are in many instances already being applied to products and marketed by companies that were part of the consortium.

Throughout the period of development of the project several presentation sessions were held, allowing the implementation and marketing of the new products. A final presentation session was held on the 6th of November with the participation of several companies and institutions from the footwear industry.

The final disclosure session consisted of a seminar to present the results and allowed the various project partners to share some of the results achieved, namely in terms of new materials, products and functional devices; footwear based on knowledge, technology; advanced production technology and recovery of footwear; flexible logistics and integrated manufacturing plant; methodologies and innovative quality control systems and footwear for comfort, health and well-being.

Within this disclosure session, those present also had the opportunity to visit an exhibition, where some of these innovations were listed, such as samples of materials, components, devices, chemicals and footwear; videos of equipment and advanced production technology, valuation footwear and flexible and integrated logistics of the manufacturing plant and laboratory equipment.

The NEWALK project with the completion of its several subprojects was responsible for developing about 80 new products for the footwear industry.