New record for Portuguese leather goods exports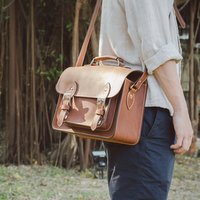 Exports of leather goods continued to grow in 2014 in Portugal. Since 2008 their value nearly tripled and now amounts to 143 million euros
Last year, sales of leather goods, excluding leather footwear, increased by 29%. Spain, the first destination for Portuguese leather products, was also one of the most dynamic markets in 2014 (up by 46% to 28 million euros). France follows, growing 25% to 23 million euros in 2014, then Angola, increasing roughly 8% to reach 11 million euros and Morocco bought 9 million euros (growing by 55% from previous year).

Exports of leather goods are growing in virtually all subsectors. More than half of the sales are concentrated in the bags sector, with an increase of 30.3% in 2014, reaching 72 million euros. Other leather goods is also consolidating its performance, with a 33.2% sales increase to 60 million euros. Finally, leather clothing and leather accessories revealed a very positive performance last year (more 3.8% to 11.6 million).

The industry is in a very positive phase. Ana Maria Vasconcelos, from company Belcinto, argues that we are witnessing "several interesting movements in the market, particularly with big brands which regularly produce in Asian countries such as China or India looking for manufacturing option in Portugal". With the "reality of these countries changing very rapid and significantly" new movements in the markets are common. Also, "business are increasingly more difficult. Consequently, brands opt to risk less and to focus on safer business options".

Good quality, good customer service and quick response are strong arguments in favour of the Portuguese companies. Carla Sousa, from Ceancarel, ensures that "the Portuguese companies that specialized in producing high quality articles providing an efficient and quick service have advantages compared to their major international competitors".