New Generation: meet Patrícia Henriques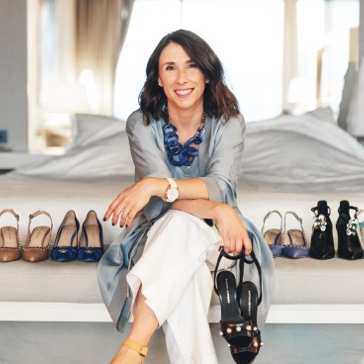 Brand Patrícia Henriques was born out of Patrícia's dream. After being a mother, she felt it was time to move forward with the project of creating comfortable footwear that was both elegant and sophisticated
How did this project emerge?
I reached a point where the job I had wasn't compatible with my desire of expanding the family. I would either live in other country leaving my husband in Portugal or I'd spend all my time travelling. At the time in Portugal, there was a less diversified and exciting reality, which left me at an impasse and I felt my career was receding. That was the main sign that I needed to reinvent myself. I wanted a project which could allow me to create, innovate and interact with different people; which is very important to me professionally. Therefore, I decided to pursue my dreams.

Was footwear a natural choice?
I felt I needed to do more than just providing services and start supplying a product. In this context, footwear was a natural choice because I've always been passionate about shoes. Regarding everything else, it was not natural at all, since I had no connection to the sector, any training on design or ecommerce experience. As I always worked with project management, I ended up doing what I used to do in any consultancy project, which is to identify and gather around me all the experts from the different fields. That allowed me to increasingly grow and refine what is my brand's essence.

How do you think the sector has been evolving?
I've been a bit disconnected from the sector's initiatives because I'm still balancing this project with other business activities. But I feel the boom of national brands has been extraordinary and I feel a profound sense of pride in seeing so many Portuguese taking a risk in this sector. I believe when the product is good, it speaks for itself and its potential is exceptional.

How does the brand distinguishes itself?
In the beginning the brand had more of a classical outlook; however, at this stage, we're investing in a different product. I introduced, by the end of 2018, the concept "gender", together with Pedro Crisprim, with models from 36 to 46, mainly ankle boots with heels until 6cm. I love the concept and I really wanted to explore different things, which lead to an open door to an international client who new a lot about products, leathers and all the production details and, above all, is very interactive. This offer has become a differentiator factor. Moreover, the brand distinguishes itself for exclusivity. We don't produce hundreds of pairs for each model, I want it to be a very exclusive product, in which I can have a close interaction with the customers. That's how we want to stand out, in that interaction with the customers and their involvement in development of the models.

What future plans do you have for the brand?
Continue the work I started in 2018, consolidate the supply in that segment, strengthen the proximity to the customer and improve our presence in the digital channels.

What piece of advice would you give to those who are entering the industry?
For those who want to create their own brand, my advice is to prepare yourselves well, look for trustworthy partners, seek help when you feel lost or doubtful and, above all, be genuine. Don't neglect financial knowledge and invest in training, formal or through mentoring or other more on-the-job formats. The beginning is always hard but when you're surrounded by great partners, obstacles are overcome with effort and dedication.