Michael Kors acquires Versace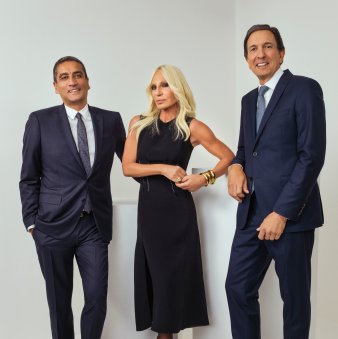 The London-based fashion luxury group announced a definitive agreement to acquire all of the outstanding shares of Italian luxury fashion house Gianni Versace for a total value of 1.83 billion euros. Holdings Limited will be renamed to Capri Holdings Limited
"The acquisition of Versace is an important milestone for our group", commented John D. Idol, Chairman and Chief Executive Officer of Michael Kors Holdings Limited, adding: "With the full resources of our group, we believe that Versace will grow to over 2.0 billion US dollars in revenue. We believe that the strength of the Michael Kors and Jimmy Choo brands, and the acquisition of Versace, position us to deliver multiple years of revenue and earnings growth."

"This is a very exciting moment for Versace", said Donatella Versace, adding: "I am proud that Versace remains very strong in both fashion and modern culture. Versace is not only synonymous with its iconic and unmistakable style, but with being inclusive and embracing of diversity, as well as empowering people to express themselves. Santo, Allegra and I recognize that this next step will allow Versace to reach its full potential. We are all very excited to join a group led by John Idol, whom I have always admired as a visionary as well as a strong and passionate leader. We believe that being part of this group is essential to Versace's long-term success."

Versace's management team will continue to be led by Chief Executive Officer, Jonathan Akeroyd, who has been with Versace for over two years now.

With this acquisition Michael Kors will now expand their global luxury portfolio to include three iconic founder-led brands defined by fashion luxury products with a reputation for world-class design and innovation. The London-based group sees this an opportunity to help grow the group's revenue to 8.0 billion US dollars in the long-term, while diversifying the geographic portfolio, with a bigger focus on the Asian markets.

Transaction Details
The transaction is not subject to a financing condition. The cash portion of the purchase price is expected to be funded by a combination of cash on hand, drawings under the company's existing revolving credit facility, and committed underwritten bank term loans from our advisors JPMorgan Chase Bank, N.A. and Barclays. The Versace family will also receive 150 million euros of the purchase price in shares of Capri Holdings Limited. The transaction is expected to close in the company's fourth fiscal quarter, subject to specified closing conditions, including the receipt of required regulatory approvals.




New Name
Capri Holdings Limited is the new name to be adopted by Michael Kors Holdings Limited upon the closing of the acquisition.





Image Credits: Rahi Rezvani; L-R: Jonathan Akeroyd, Donatella Versace, John D. Idol