Register to continue reading for free
Lenzing: a circular economy requires more innovation and collaboration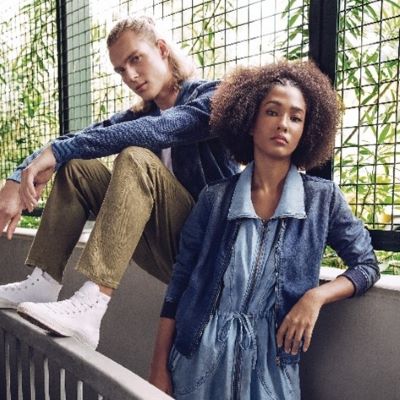 We spoke with Florian Heubrandner, Vice President Global Textiles Business at Lenzing AG, and Birgit Schnetzlinger, Head of Functional Wear Segment, to better understand how sustainability helped the company become a global technology leader in fibres' production and discuss a more sustainable future for the industry
The Austrian-based company has come a long way since 1892, the year that marked the start of operations of the first pulp and paper mill in Lenzing. Following the turbulent times of the II World War, the company started to look ahead. By the late 1960s, when environmental protection was somewhat of a foreign concept, Lenzing began to acknowledge the impact of their production on the environment. The solution to surviving the test of the time was found in innovation through the concepts of biorefinery and closed chemical cycles, which ultimately led to the establishment of an environmental department in 1975. In the 1980s, the group also started to take the first steps towards expanding production across the globe.

The cornerstones for the development of a global technology company on innovative and sustainable products were then launched. "At Lenzing, our fibres are derived from sustainably sourced wood and produced by environmentally responsible processes. The fibres are certified as compostable and biodegradable, and thus can fully revert to nature. Our fibres exemplify sustainability in the textile and nonwovens industry", explained Florian Heubrandner, Vice President Global Textiles Business at Lenzing AG. Moreover, they exhibit "high-quality fibre benefits" and versatility, "enhancing the aesthetics and functionality of fabrics for numerous applications".
Today, Lenzing is at the "forefront of driving the industry's sustainability path forward", having developed technology innovations such as the unique eco-conscious lyocell production process, the upcycling REFIBRA technology or the closed-loop manufacturing management. Now, in line with the Paris Agreement and the United Nations' Sustainable Development Goal 13, the company is set in reducing specific CO2 emissions by 50% per ton of product until 2030. This target has been scientifically verified and approved by the Science-Based Targets Initiative (SBTi), the most widely recognized organization in the field of climate-relevant objectives, making Lenzing the first wood-based cellulosic fibre producer to have an approved SBT.
Naturally Positive Sustainable Strategy
Lenzing follows a three-pillar sustainable strategy intended at "creating systematic and sustainable change" across the entire value chain.

First, partnering for sustainable change states that partnerships are a part of the value chain, helping to further raise sustainability and transparency both in the textile and in the nonwovens' industry. Second, the company strives for greening the value chain by practising sustainable raw material sourcing, responsible handling of water, minimized use of fossil energy sources and ongoing innovation to improve the sustainability of its fibres. Lastly, a circular economy is a top priority, "as we believe raw materials on our planet are limited and products should be turned into raw materials again after use. Our proprietary REFIBRA technology recovers chemicals through closed production processes which can turn cotton scraps from garment manufacturing and post-consumer waste are turned into fibres again".

Sustainable-Driven Innovation
Scientific research and industry collaboration are key elements for any company that intends to make the entire supply chain more sustainable and responsible. Such is the case of Lenzing, which is "committed to launching systemic change through different forward-looking solutions, technology breakthroughs, business models and collaborative activities".





Lenzing's sustainable targets are the cornerstone of its activity, working as innovation drivers. Thus, research must not only consider availability, technical feasibility and economic stability, but also the overall ecological impact at stake.





To this end, in 2020, Lenzing has invested over 34 million euros into its R&D programmes to drive further industry innovations. "For us, the bottom line is that these investments benefit our customers because they can optimally differentiate themselves from the competition by using innovative Lenzing products to make a difference", concluded Mr. Heubrandner.




Sustainability as a Corporate Value
Sustainability is not only a goal, but also "one of the corporate values for Lenzing", forming "an integral part of the sCore TEN business strategy". So, as the company strives for exemplary quality in its sustainable solutions, ethical conduct and partnerships, it also expects the same from each partner across the supply chain.





"Our suppliers are required to use environmentally responsible practices wherever they make products or perform services on behalf of Lenzing. We also require them to operate in accordance with our Lenzing Global Supplier Code of Conduct, to promote an environmentally and socially conscious supply chain and minimize "greenwashing". In addition, following our commitment to environmental protection and resource preservation, we procure wood and pulp only from certified sustainable sources", explains the Vice President Global Textiles Business at Lenzing AG.




COVID-19 Pandemic
It is somewhat inevitable to leave the topic of the pandemic out of the conservation. Lenzing, however, has managed to go through the pandemic period unscathed. If in the beginning, the company saw a short, sharp drop in demand, it quickly bounced back due to the strong demand, "while we were producing at full steam, demand was by far surpassing our production".





Interestingly, Mr. Heubrandner noticed that "as a result of the pandemic", Lenzing "has seen stronger demand for sustainable fibres across all regions, as well as a need from consumers for traceability and transparency". Consumers are interested in knowing more about what they wear, and the company responded to it together with its technology partner TextileGenesis, introducing a "blockchain-based traceability, which allows brands and retailers to trace back the entire value chain of their garments".



Footwear Industry
"Compared to apparel, footwear is a complex product made up of different components that can be replaced by more sustainable options at a different rate of industry innovation", highlighted Birgit Schnetzlinger, Head of Functional Wear Segment.





Ms. Schnetzlinger advises brands wanting to become more sustainable to start by measuring their product's impact to identify levers for improvement. "In our experience working with brands, we have seen that one common goal for many companies is to reduce their carbon impact. Our carbon-zero TENCEL fibres can help to make an immediate impact on the material's carbon impact. We also work with various eco database providers, such as the Higg Materials Sustainability Index, to provide data on environmental impact".




Future
The Head of Functional Wear Segment at Lenzing AG identified some of the biggest challenges for the industry. She recalled that every year "around 23 billion pairs of shoes are produced, and many of these eventually end up in a landfill. As these shoes are manufactured with ingredients that can be hazardous, it is essential that this statistic is improved". In addition, there is still much work to do towards circularity. Most brands offer concepts such as take-back or repair services, but "to become more circular requires more innovation and collaboration within the industry".




Concerning the footwear industry, Lenzing's first step of contributing to a circular economy was the REFIBRA technology. "The pioneering REFIBRA technology involves upcycling cotton scraps from garment production. These cotton scraps are transformed into cotton pulp. A substantial proportion – up to one third – of this is added to wood pulp, and the combined raw material is transformed to produce new virgin TENCEL Lyocell fibres to make fabrics and garments", she exemplifies.