Register to continue reading for free
Japan Retail: YoY November retail sales could be misleading for 2021 forecasts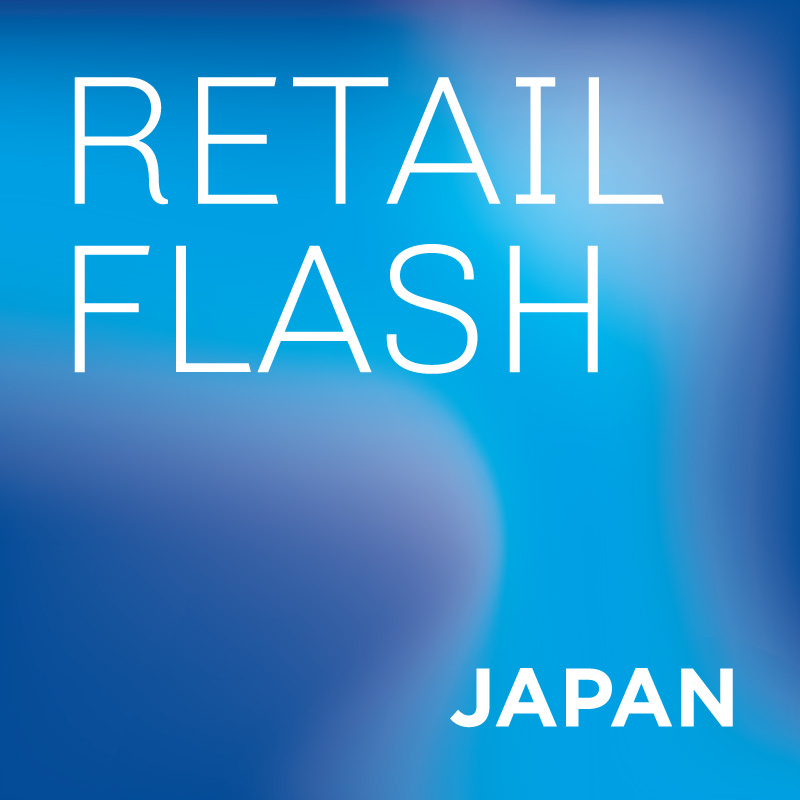 Looking at the most recent Year-on-Year retail sales variation in Japan can be quite misleading for any forecast, as retail sales in October-November seem to have been scarcely affected by the new COVID-19 outburst, when compared to 2019. In the same period the price indexes also showed little or no reaction to the pandemic, as they are at the same level as one year ago. The concern comes from a consumer confidence indicator which began to fade away in December


COVID-19 impact almost absent in October-November

The pandemic kicked off in Japan by mid-January 2020 coming from continental China, but its definite outbreak was felt later, by mid-March, and propelled by European and US origins. That was reflected in the Retail Sales Value Index for Apparel & Accessories: the indicator has not diverged from the previous year until March 2020 and almost resumed its normal value by June.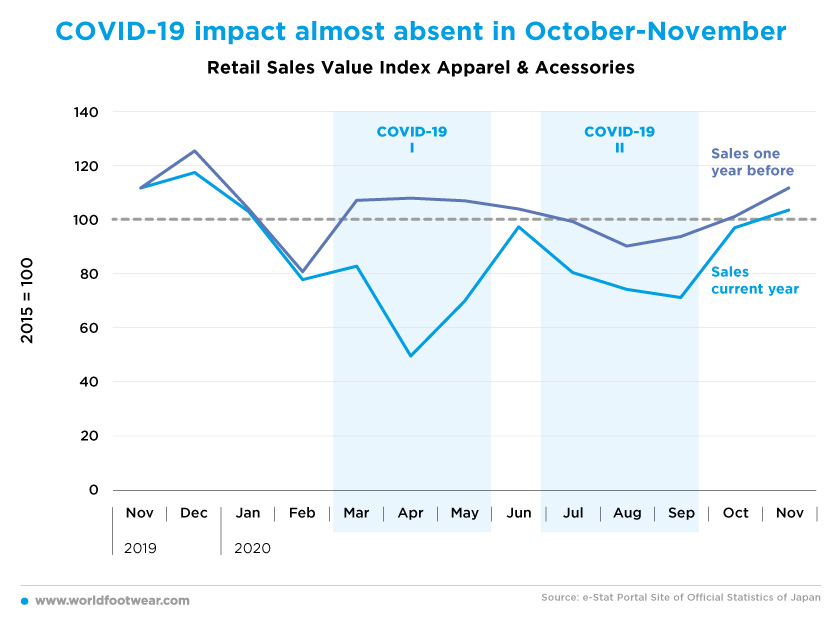 In the so called first wave of the pandemic, and according to official figures, a decline of 13.7% in overall retail sales was registered in April 2020, as compared to April 2019. While food and daily necessities sales slightly increased, the fashion apparel & accessories category went down by 53.6% year-on-year (YoY). At the time, department stores like Isetan or Takashimaya were most severely hit as they largely complied to the shutdown recommendations of the Japanese government during the state of emergency, contrary to some small and medium independent stores. Sales of fashion accessories, mostly footwear and handbags, fell by 35.4% YoY in March and 74.4% in April YoY in department stores and supermarkets. As the industry's retail sales plunged in April, Stuart Weitzman, the luxury footwear brand part of the Tapestry group's portfolio, has announced the closure all of its three directly operated stores in Japan after reporting a drop of 40% in their quarter sales.

A new COVID-19 wave spread afterwards with a peak felt in August, and later became a true tide wave after October. Interestingly enough retail sales in October-November seem to have been scarcely affected by the new COVID-19 outburst.
Eventough, Japanese sportswear company
Asics
has booked a third quarter net loss, after having its stores closed in Japan, North America, and Europe under government direction to prevent the spread of the coronavirus infection. "Due to the global spread of the novel coronavirus disease, Asics Group continued to face a
challenging situation,
such as cancellation or scale-down of various competitions, temporary closures of own retail stores and the slump in personal consumption", the group said.
As reported in November by the Japan Times, four major Japanese department store operators saw their sales in the March-November period last year drop by around 30% to 40% from a year before. At the time, Takashimaya, Sogo & Seibu and Matsuya kept unchanged their estimates of operating losses at ¥18 billion, ¥8.8 billion and ¥4.4 billion (170 million UD dollars, 85 million US dollars and 42 million US dollars), respectively.
Recent footwear prices not yet COVID-19 sensitive



In July-August 2020 the fall in the Consumer Price Index for Footwear has shown a
clear COVID-19 induced difference from the previous year
. But again, no difference is visible in October-November. In contrast, the COVID-19 effect in footwear imports has been present from February onwards in comparison with 2019, and in October- November the difference was 20 percentage points. In Japan
footwear imports
weight 85% of consumption (see more within the World Footwear Yearbook available
HERE
) which means they are a good advanced indicator of Footwear retail sales. As such, retail sales will probably abate well below the 2020 level in January 2021.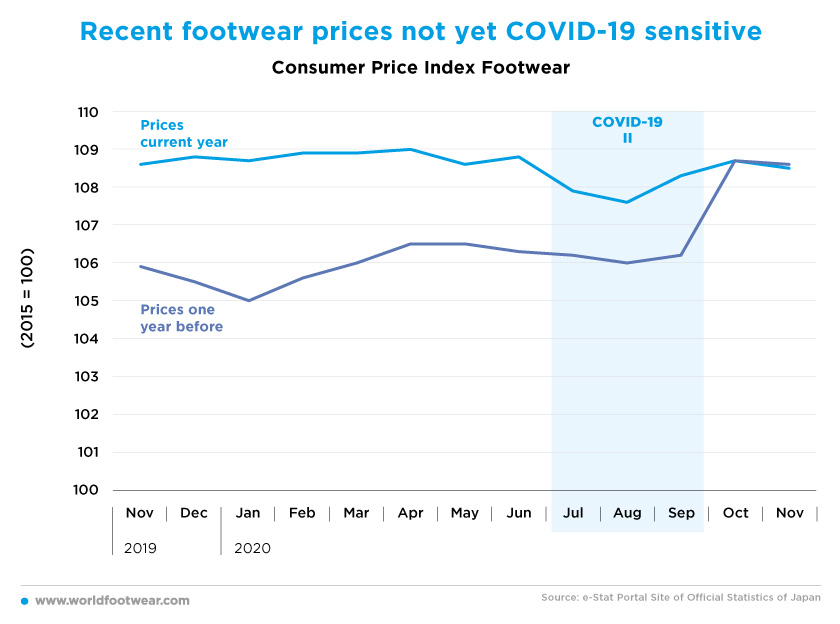 But Consumer Confidence seems to be vanishing

In addition, the Consumer Confidence indicator has been consistently recovering from April through November 2020, but the fact is that
in December it seemed to begin to fade away
, quite differently from what has happened in 2019. Also, the Tankan index of actual Retail Business Conditions while recovering in December was much more pessimistic than in 2019 when COVID-19 was not here.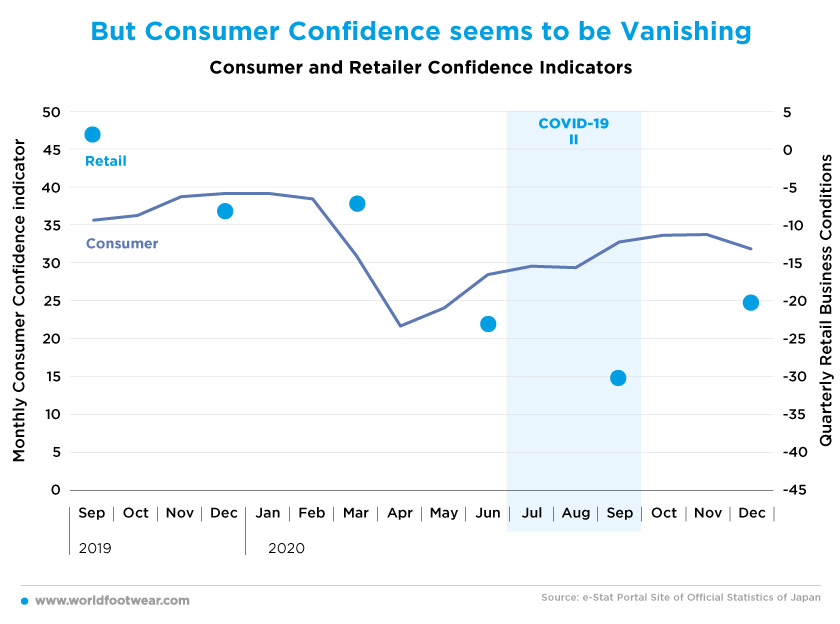 According to the Japan Department Stores Association Department store sales in Japan fell for a 13th straight month, with a 1.7% Y-o-Y drop, in October, which continues to be bad news for brick and mortar. It seems clear that the COVID-19 pandemic has prompted retailers to focus more on the set up or expansion of their online stores as people spend more time at home to reduce the risk of infection in large crowds. The online continues to represent the desired exception to the retail's performance in the last months.

However, as the pandemics is still growing in January 2021 it is rather unlikely that the Japanese footwear retail will not suffer more than in the two previous years, despite some good signs in online sales.