Ferragamo with continued growth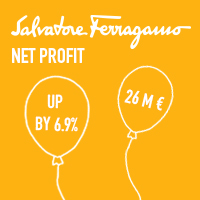 The group's revenue for the three month's period ending 31st March was up by 6.0%. Group net profit for the first quarter reached 26 million euros, 6.9% up from similar period in 2013

According to the numbers released by
Salvatore Ferragamo S.p.A.
, the parent company of the Salvatore Ferragamo Group, as of 31st March the group posted total revenue of 299 million euros, a 6.0% increase at current exchange rates, over the 282 million euros recorded in Q1 (Quarter 1) in 2013. If the currency fluctuation effect is removed the growth at constant rates would have been 7.4%.
Asia Pacific is confirmed as the group's top market in revenue terms, increasing 5.3% in Q1 2014 (5.7% at constant rates), with a "significant contribution from the retail channel in China, that recorded a revenue growth of over 10% in the first three months of the year".
Central and South America is the region registering the largest growth during Q1 in 2014 with 9.3% variation (16.7% at constant rate). Europe, despite the geopolitical tensions, posted a 9.2% increase on its revenue (9.0% a constant rates).
Japan is the market impacted more heavily with currency fluctuations as the revenue variation rate is 8.7% at current exchange rates, which compares to 18.1% increase at constant exchange rates.
As of 31st march 2014, the group's retail network counted with 356 Directly Operated stores (DOS) and its wholesale and travel retail channel (wholesale) with 264 Third Party Operated Stores (TPOS). Revenue for the retail distribution network increased by 3.9% (5.9% at constant exchange rates) and the wholesale channel continued the solid performance marking a 9.3% increase in Q1 (9.7% if the currency fluctuation effect is removed).
By product type, the increases of 15.3% (17.1% at constant exchange rates) for handbags and leather accessories and 4.6% (5.8% at constant rates) for footwear are worth noting, as these two categories together represent 76.9% of the group total turnover. The apparel and fragrances segments presented poorer performances with 9.6% and 2.2% declines, respectively. Revenue generated by accessories was quite stable (presenting a 0.2% variation).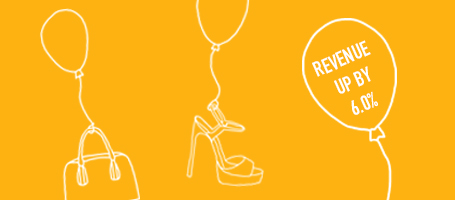 The group's net profit for the period reached 26 million euros, compared to 24 million euros in Q1 in 2013, a 6.9% increase.
This set of results follows the 2013 results characterized by a 42.5% increase in annual net profit, (150.5 million euros). The group's total revenue grew from 1 153 million euros in 2012 to 1 258 million euros in 2013, up by 9.1% at current exchange rates and by 10.6% at constant rates vs 2012.
Salvatore Ferragamo S.p.A.
, founded in 1927, is the parent company of the Ferragamo Group, a key player in the luxury goods industry. The group focuses on the creation, manufacture and sale of footwear, leather goods, clothing, silk products, other accessories and perfumes, eyewear and watches. With an extensive network of 620 single-brand stores – 356 DOS and 264 TPOS, , complemented by its presence in high-level multi-brand department stores and specialty stores, Ferragamo can be found in Italy and in over 90 countries across the European, American and Asian markets.
For more information about Salvatore Ferragamo please visit the
company's website
.