Expo Riva with positive outcome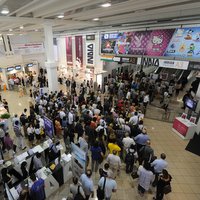 The latest edition of Expo Riva Schuh, the international event, closed its 86th edition with a total of 11 025 visitors. The direction of the fair believes new strategies are needed to win over the market
"This edition has brought us back to the image of a sector that is changing – explains the chairman of Riva del Garda Fierecongressi, Roberto Pellegrini, adding: "Expo Riva Schuh has always been a great opportunity for understanding how the market is evolving, and in this edition in particular, we have noted some important changes that are affecting the fair and its target sector. We have seen new kinds of visitors, for example from large fast fashion chains, which started off in clothing and are now looking at the footwear sector, as well as new purchasing methods from the buyers. Our greatest challenge in the near future will be precisely that of managing to provide effective responses to these new market demands."

According to the Directors of the trade fair the purchasing strategies are changing and companies looking for alternative ways to compete at international level. Luxury brands for example, might considering "running a medium level collection alongside their main collection, where the quality guaranteed by the brand can also be offered at a lower cost and with a faster response rate to market demands". At least this seems to be the view of Giovanni Laezza, Managing Director of Riva del Garda Fierecongressi.

Speed in fashion production and on-going changes in the timing of collection launches were the subject of debate at Saturday's opening talk on 11th June, entitled: "The on-going changes in fashion timescales." During the meeting, the issue of whether or not it is possible to reduce the downtime between product launch and the point at which the product hits the high street was discussed, as well as the likely consequences of this revolution for the footwear market and sector-related trade shows.

The latest edition of the Expo Riva Schuh had a total 1 139 international exhibitors (from a global presence of 1 438 exhibitors), representing over 40 countries, such as China, India, Brazil, Portugal, Spain, Indonesia and Pakistan.

The next dates for Expo Riva Schuh have been set from 14th to 17th January 2017, with previews of the Autumn/Winter 2017/2018 collections.