Dr. Martens posts strong fiscal 2022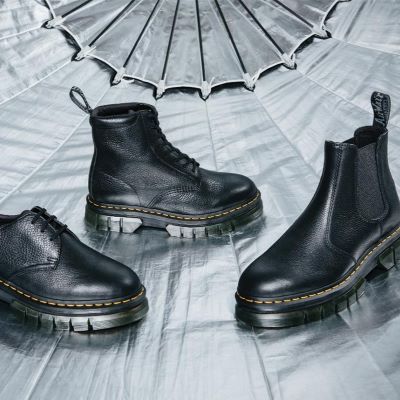 The British footwear brand announced that it sold a record number of pairs (14.1 million) in fiscal 2022, which was translated into revenue growth of 18%, as compared to the prior fiscal year
"Our FY22 results have been driven by our proven DTC-first strategy and continue to build upon our track record of volume-led growth. When we listed, we committed to deliver high-teens revenue growth, and today we are pleased to report 22% constant currency growth and EBITDA ahead of market expectations. Our results were achieved against unprecedented Covid-19 disruption in our supply chain, which our teams navigated with flexibility and dedication. We have always said that driving brand equity is our first priority, as it will ensure sustainable growth in the decades ahead. Our recent comprehensive brand survey shows that our brand is stronger than ever, with significant growth in awareness, familiarity and recent purchase. Dr. Martens remains incredibly underpenetrated globally, giving us conviction in our future growth ambition", commented Kenny Wilson, Chief Executive Officer.

Full Year Results
In the twelve months to the 31st of March, Dr. Martens' revenue increased by 18%, or 22% at constant currency rates, reaching 908.3 million British pounds (1.06 billion euros), on a comparable basis to fiscal 2021. The company highlighted that the main driver of growth was volume, having sold 14.1 million pairs (fiscal 2021: 12.7 million pairs).


DTC sales grew by 34% over fiscal 2022, totalling 447.0 million British Pounds (535 million euros), on a comparable basis to the prior fiscal year. E-commerce sales were up by 11% (by 14% at constant exchange rates) to 262.0 million British pound, and retail revenue was up by 86% (by 93% at constant exchange rates) to 185.6 million British pounds (307 million euros), as stores recovered after COVID-19 restrictions were lifted. Wholesale revenue rose by 5% (by 10% at constant exchange rates), amounting to 460.3 million British pounds (539 million euros).

Dr. Martens reported that the performance in the Americas and EMEA regions was "very strong" throughout fiscal 2022, as it recorded revenue increases of 29% and 19%, respectively, as compared to the previous financial year. APAC, which is the brand's smallest region, "was heavily impacted by ongoing COVID-19 restrictions", with revenue declining by 10%.

In full year 2022, EBITDA increased by 18%, or 28% at constant exchange rates, totalling 263.0 million British pounds (308 million euros), as compared to fiscal 2021, due to the combination of volume and improved DTC mix. Accordingly, EBITDA margin improved by 0.2 percentage points to 29.0%.


Fiscal 2023 Outlook
For full year 2023, the company confirmed its medium-term guidance. It is expecting e-commerce to represent at least 40% of revenue, with total DTC accounting for at least 60%. It is also anticipating EBITDA margin at 30%.





Dr. Martens detailed that is planning to open between 25 and 35 new stores over the next twelve months, mainly in the US and Europe. In Japan, it will take over about half of the 31 Dr. Martens branded franchise stores when the contract expires at the end of fiscal 2023.








Image Credits: highxtar.com