Do you know CTCP's High-Tech laboratories?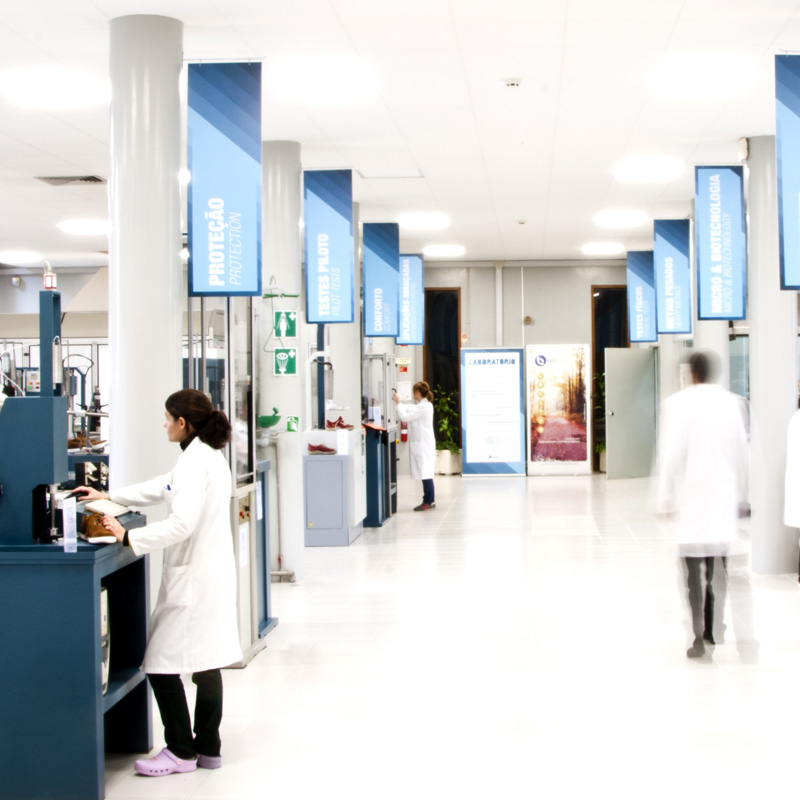 The Portuguese Footwear Technological Center (CTCP) is expert in the testing of footwear, leather goods, accessories, made of leather, synthetics, rubber, plastics, and other materials, including fashion, casual, comfort, classic and safety products
The CTCP's laboratories, with an experienced, dynamic and highly technical team, offer a wide range of services, enabling proactive evaluation of footwear at all stages of development and production, contributing to product quality, sustainability and speed to the market. The range of offered services include testing, applied research, consultancy, and training services.


Its high-tech laboratories are accredited according to ISO 17025. CTCP can carry out more than 300 different tests according to International, European and National standards (ISO, EN, ASTM and other standards). CTCP test reports are accepted worldwide and annually more than more than 30 000 tests are performed.

Experienced professionals develop appropriate testing programs based on the customer's specific needs. In conjunction with the relevant legal requirements and the demands of the market, CTCP offers a complete range of testing services to verify the quality of the products, including performance, chemical, comfort, microbiological, biodegradability testing.

Performance Testing
• Strength and workmanship
• Slip and flex cracking resistance
• Sole bond adhesion, seam, heel attachment strength
• Abrasion, colour fastness and labelling
• Waterproof properties
• Safety shoes appraisal

Chemical Testing
• Regulatory requirements such as REACH, CPSIA compliance, 65 California Proposition
• Client's product and manufacturing RSL
• CADs List
• Analysis for chromium VI, azo-dyes, metals, organotins, chlorophenols, phthalates, among others

Comfort Testing
• Breathability
• Moisture absorption and desorption
• Thermal comfort – in-shoe temperature and humidity
• Biomechanical comfort – impact absorption and resilience
• R&D with thermal foot or gait simulator

Biodegradability Testing
• Disintegration under composting conditions of leather, textiles, outsoles, and complete footwear
• Aerobic biodegradability of materials under composting conditions measuring the carbon dioxide released and the degree of disintegration

Work Footwear Testing
• Protective footwear
• Safety footwear
• Footwear for firefighters
• Footwear resistant to heat and cold, electrical hazards, cutting, among other
• Footwear for the army, navy, air force, and security forces

CTCP test reports are used to certify footwear and support CE marking, the passport allowing free movement of Personal Protective Equipment (PPE) in the European market. This certification is done by APICCAPS, the Portuguese Footwear Association, and ensures that a product complies with Regulation (EU) 2016/425 of the European Parliament and of the Council of the 9th of March 2016 on personal protective equipment and repealing Council Directive 89/686/EEC.

Certification and Mark
CTCP certification contributes to protecting the company or brand reputation and validating product quality, performance characteristics and durability. The certification protocols are agile and supported by digital tools allowing the team's quick response. The certificate and associated mark support producers and brands communication and transparency, contributing to traceability and consumer, workers and environment safety, with a view to sustainability and circularity of footwear and allied trade value chains.

CTCP mark is a tool for differentiating and increasing the value of materials, components, and footwear. The CTCP mark highlights the unique characteristics or properties of materials, components or footwear, including:
• Chromium-free
• Recyclable
• Recycled
• Durable
• Lower Carbon Footprint
• Disintegrable
• Biodegradable





The CTCP mark is easy to read and functions as a visible element of differentiation.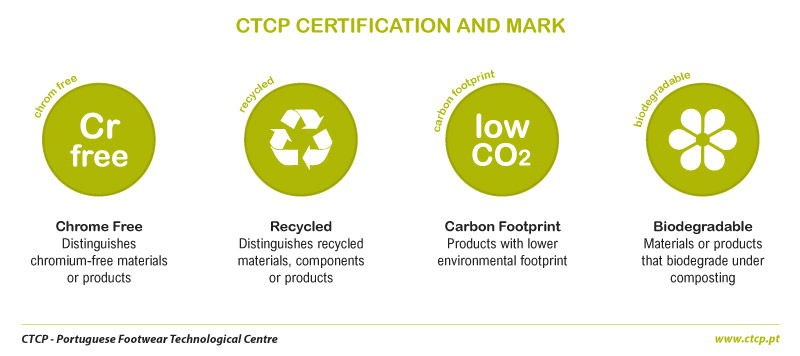 In case you have questions, please get in contact via laboratorio@ctcp.pt.