DiVERGE shoes in new Clooney movie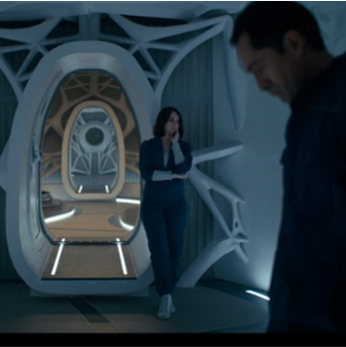 In the new film starred by George Clooney another character is shining: the Portuguese brand DiVERGE and its shoes
"The clothing manager found DiVERGE through one of our digital media ads. She really liked a specific model and was excited when she realized that all of our sneakers are customized and that we could easily introduce elements that would go even better with the outfit that actress Felicity Jones would wear in the film", João Esteves, CEO of the brand, stated.

In 2019, the same person responsible for the production of the film "The Midnight Sky" ordered 12 pairs of DiVERGE shoes for Jones and their doubles. However, the final choice was not guaranteed yet and confirmation did not arrive until the beginning of 2020. "DiVERGE was chosen for the looks' of the character Sully, the pregnant astronaut aboard the spaceship that would save Humanity."
The model chosen was the "Minimal High" in light gray, with the symbol on the heel in teal. "We didn't have high expectations that sneakers would be visible, but the truth is that, at various times, they are easily recognizable.
This choice for a Hollywood production makes us very proud, but more than that, it demonstrates the great potential that DiVERGE has as a brand of 'sneakers', also shown by sales in 35 countries," said the CEO.
DiVERGE
The brand was founded by a group of friends who were frustrated "with the difficulty of finding sneakers that made us feel special and perfectly matched our style". The brand "started investing in the market at the end of 2019. Currently, it exports over 90% of its production to markets such as Germany, the United States, England and Italy.